Signature Sounds Presents: Big Al Anderson &The Floor Models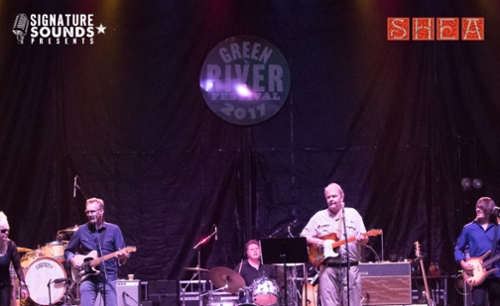 Saturday, September 25, 2021, 8:00 pm until 10:00 pm
Doors open at 7:30/Show 8:00PM. Tickets available online or by calling Signature Sounds at 413-341-3317
Signature Sounds Presents
Big Al Anderson & the Floor Models at Shea Theater on Saturday, September 25, 2021 at 8pm.
Featuring: Jim Chapdelaine, Paul Kochanski, Lorne Entress, Christine Ohlman
Big Al Anderson has emerged as one of Nashville's most dependable tunesmiths, churning out an impressive string of irresistibly catchy, organically gritty hits for the likes of The Mavericks ("All You Ever Do Is Bring Me Down"), Trisha Yearwood ("Powerful Thing"), LeAnn Rimes ("Big Deal"), Diamond Rio ("Unbelievable"), Carlene Carter ("Every Little Thing") and Hal Ketchum ("Fall In Love Again").
Long before he stormed the country charts, "Big Al" made his mark as singer, guitarist and main writer of the Connecticut foursome the Wildweeds, who scored a substantial regional hit in 1967 with his composition "No Good to Cry," and subsequently in a 24-year stint with the beloved cult band NRBQ.
After over two decades of hard touring, hard living and encyclopedic musical knowledge, Al was ready to change his already prodigious songwriting talent into a full-time venture.
Two years before he left NRBQ, he wrote a song with Carlene Carter, "Every Little Thing" that she took to top 5 all over the world. That song, and meeting music publisher Pat Daniel McMurry (Escott), were the turning points in Al's career and life. With the support, guidance and belief that Pat provided, Al became unstoppable. At the same time that Al signed with Pat, he decided to quit drinking and suddenly became one of the most prolific writers in Nashville. "I went from 3 songs a year to writing sometimes 3 a day".
The parade of hits is long and include singles and cuts by Vince Gill, Bonnie Raitt, Trisha Yearwood, Jimmy Buffett, Martina McBride, Patty Loveless, George Jones, Sheryl Crow, Leann Rimes, Tim McGraw, George Strait, Rascall Flatts, Zac Brown, Anthony Hamilton, Harry Connick Jr and many others.
Posted to: Upcoming Events at the Shea.