Eggtooth Productions + MAD House Present: An Intervention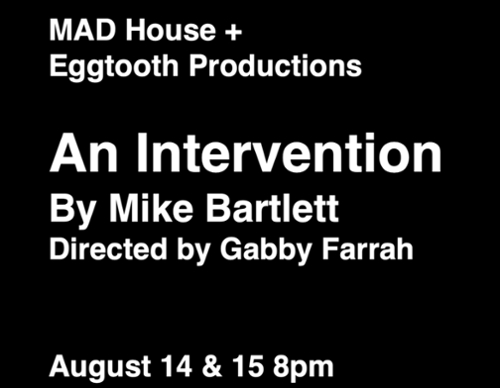 Saturday, August 14, 8:00 pm until 9:30 pm
In person and live at the Shea!
Would you rather be blithely ignorant or engaged and disillusioned? Can you really be friends with someone with whom you fundamentally disagree? What do we owe our friends?
An Intervention by Mike Bartlett is a fast-paced and funny two-hander that examines the limits of friendship and responsibility. It asks us to consider how and when to intervene in both personal and political matters.
"During the past year and a half of relative isolation, I found myself craving connection in theatre and life. Bartlett's script is nuanced and complex, never trite or moralizing. I am eager for audiences to wrestle with the questions it poses. As we begin to emerge from the pandemic, I'm thrilled to bring this play—a battle cry for connection against all odds—to life in an intimate production showcasing the work of our artists at the Shea Theater in Turner's Falls." -Gabby Farrah, the director
Posted to: Events at the Shea