The Shea Presents: The Brothers Project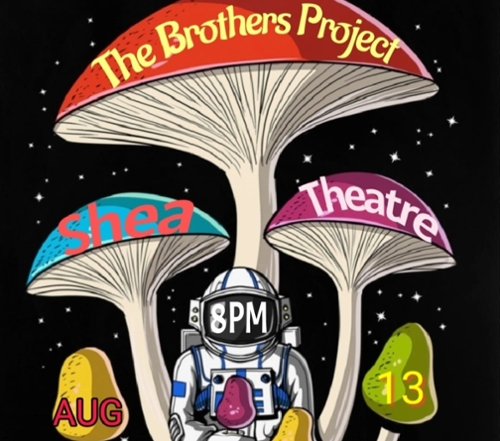 Saturday, August 13, 8:00 pm until 10:00 pm
A night filled with the timeless music of The Allman Brothers Band, thanks to the Brothers Project!
The Shea Presents:
The Brothers Project
WHEN: Saturday, August 13th 2022 at 8pm
WHERE: Shea Theater Arts Center, 71 Avenue A, Turners Falls, MA
TICKETS: $15 in advance/ $20 at the door
The Shea Theater is pleased to present an evening of The Allman Brothers Band's music as done by The Brothers Project on Saturday, August 13th.
ABOUT THE BROTHERS PROJECT
The Brothers Project is an Allman Brothers experience in music and performance.
Band members:
Dave Cunningham - Vocals/Guitar
Ralph Whittemore - Bass
Ken Steinhardt - Keyboards
John Morelli - Drums
Jason Wamboldt - Drums/Percussion
Rich Dooley - Guitar
Ray Toole - Guitar
ABOUT THE SHEA THEATER
The Shea provides performance space for a variety of attractions designed to appeal to the widest range of tastes. Musical offerings include folk, pop, rock, swing, jazz, country and traditional. Theatrical productions encompass musical comedy, drama, comedy, and political satire. In addition, audiences can take advantage of magic shows, children's shows and silent film revivals.
The Shea, with the help of a wonderful corps of volunteers, has been attracting a growing audience and as a result is bringing people into Turners Falls from an ever larger geographical area. This growth has put the Shea on a firmer financial footing, providing the basis for expectations of an even more exciting future for this vital community asset.
THE SHEA'S COVID POLICY
The Shea Theater Arts Center is committed to providing a safe environment for artists, patrons, guests and staff. Effective immediately, indoor events at the Shea Theater are only open to fully vaccinated individuals. Any ticket purchased by a non-vaccinated patron or guest not yet comfortable returning to the theater will be refunded without question. Exceptions will be made for children under 12 who cannot yet receive vaccination. Additionally, the Shea requires that patrons wear masks indoors at all times unless they are eating or drinking concessions. We appreciate your patience and cooperation as we reopen as safely as possible.
TICKETS
All ages
$15 adv/$20 day of show
#gettotheshea
Posted to: Events at the Shea