Eggtooth Productions Presents: A HAPPENING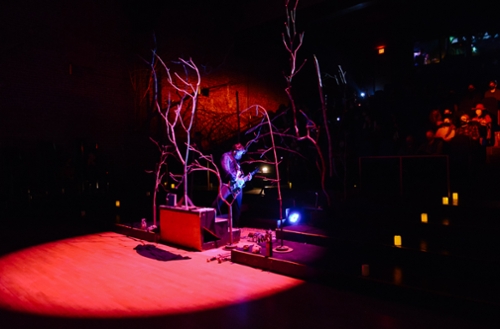 Friday, October 21, 2022, 7:00 pm until 10:00 pm
Featuring Direction and Design by Cloudgaze Productions. Entry as early as 6:00/ Experience begins at 7
Tickets are $20.00/Advance and $25.00/Door.
A Happening: An Immersive Festival
This time of year the veil grows thin. On October 21st experience what's on the other side.
After a successful inaugural year in October 2021, this multifaceted festival will be returning to the Shea Theater as an evolving community tradition. The collision of evocative art forms, including live music, dance, theater, sculpture, painting, and film with a "choose your own adventure" structure creates a uniquely powerful immersive experience for performers and audience alike, where the lines between witness and participant are disrupted and dissolved.

A mainstay of this festival is the "Marketplace," which highlights vendors working across varied mediums. Featured Valley performers include actors from Eggtooth ensemble, musician Corey Laitman (Cloudbelly), DJ Mike Hanson (Father Hotep), and a collection of new and seasoned artists.
Participants are invited into a strange and mysterious tale-- a whimsical myth in which the magic of music brings stories to life. Underscored by the sonic musings of SVIP, regional Valley artists collectively create multi-sensory installations for guests to explore.
"A HAPPENING" is derived from the creative vision of Cloudgaze Productions as a culmination of Creative Laboratory sessions held throughout the past year.
Join us for an evening of revelry through auditory and visual delights.
*Please note that the audience may be asked to climb stairs and traverse dimly lit spaces. Audience may also experience art and encounters from the main level of the theater.*
WHEN:
Friday, October 21st (ticketed event with performances) - Entry as early as 6pm/ Experience begins at 7 until 10 pm
Saturday October 22nd (free admission, installations only)
Co-Directed by : Sam V. Perry, K Adler, Joshua Ruder, and Rebecca Schrader
made possible by support from
Eggtooth Productions
The Community Foundation of Western MA
The Massachusetts Cultural Council
Cohn and Company Real Estate
The Source Noho
With Special thanks to MASS MoCA's Assets for Artists Program

***Please note: Masks are encouraged***

*photo credit: Samantha Ciejka
Posted to: Upcoming Events at the Shea (updated 2022-10-20 16:54:47).