Orphan Wisdom Presents: Nights of Grief and Mystery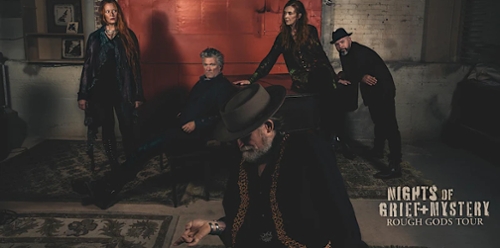 Wednesday, October 5, 2022, 7:30 pm until 9:30 pm
Doors at 7:00. Show are 7:30.
An improbable, impossible Night of words and music. A singer, a band, and a storyteller. Author/activist Stephen Jenkinson on the dark road.
Concerts for Turbulent Times they surely are. We aren't poets, maybe, but the evenings are poetic. They are musical and grave and raucous and stilling, which probably means they are theatrical. They are nights in which love letters to life are written and read aloud. There's some boldness in them. They have that tone. These nights have the mark of our time upon them, and they're timely, urgent, alert, steeped in mortal mystery. They're quixotic. They have swagger. What would you call such a thing? We called it "Nights of Grief & Mystery."
A Night of Grief & Mystery combines stories and observations from Stephen Jenkinson drawn from his work in palliative care with original songs/sonics from Canadian recording artist Gregory Hoskins and band.
The two artists have been exploring the intersection of their work for seven years, across 3 continents, through 3 recordings and 2 short films and head out again in the Fall of 2022 bringing with them Adam Bowman on drums, Colleen Hodgson on bass/vocals, and Lisa Hodgson on keys/vocals.
"We do so when the current appetite is for either distraction or distress, and we seem to be in neither business." SJ
Posted to: Upcoming Events at the Shea.