The Valley Vaudeville Variety Show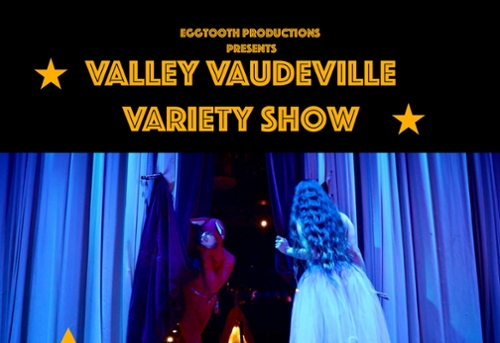 Saturday, December 3, 7:30 pm until 8:45 pm
Presented by Eggtooth Productions. Family Friendly. Sliding Scale from $5.00-$15.00.
An assorted array of talents and tales... grab a drink and bring the kids, this show has a little bit of magic for everyone! A curated collection of collaborators provide a panoply of performances in this wintry spectacle. Featured acts include excerpts from shows at the Shea (Dear Mr. Ward, Musica Franklin) as well as divertissements from Eggtooth players and Cloudgaze ensemble. Guests are encouraged to extend the evening with cider, wine, and music from CLOUDBELLY in the lobby after the curtains close. This show is made possible with support from Eggtooth Productions, The Community Foundation of Western MA Valley Creates Program, and Mass MoCA's Assets for Artists.
Posted to: Upcoming Events at the Shea on 2022-11-11 21:30:38 (updated 2022-11-12 17:59:47).