The Voo and Shea Present: The Scrooges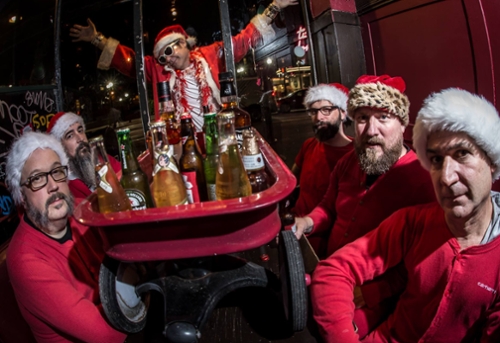 Friday, December 16, 8:00 pm until 10:00 pm
With SPECIAL GUESTS Motorhawk!
THE SCROOGES - The worlds greatest Santa-themed Stooges cover band is coming to Turners Falls!
The Scrooges are coming to The Shea Theater on Friday, 12/16 - they've been at it for 20+ years, and they're back in easy action again.
Bad Santas: Talking 20 years of The Scrooges, a Boston holiday tradition (vanyaland.com)
MOTORHAWK - If you've ever chilled on top of a pristine waterfall sipping a Monster Nitro and leafing through the lingerie section of a Sears catalog then you know what it feels like to get Motorhawked. Listening to Warren Zevon, drinking guava daquiris in the shower, licking LSD out of a stranger's hand. These are the moments. You stop and look around, you think to yourself, "Am I Motorhawk?" But the void gives no answer.
Posted to: Upcoming Events at the Shea on 2022-11-12 17:26:24 (updated 2022-12-05 11:41:17).