Signature Sounds Presents: The Ballroom Thieves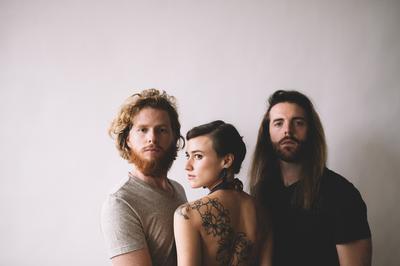 Saturday, November 17, 2018, 8:00 pm
Tickets are available online or by calling the Signature Sounds Box Office at (413) 341-3317.
Darker times make for bolder and, sometimes, brighter art.
The Ballroom Thieves - Calin "Callie" Peters (vocals, cello), Martin Earley (guitar, vocals), and Devin Mauch (percussion, vocals) - mine immense melodies and hypnotic hooks from personal stories on their 2018 EP, Paper Crown (Nettwerk Records). Under the cover of vintage jazz-style, the five songs reflect feelings of rootlessness from four nomadic years, bouts of depression, and the ever-looming specter of political unrest hanging over the country.
Nevertheless, a noticeable glimmer of light always peeks through.
"Our lifestyle has shaped our perspective," explains Martin. "We've toured so much that we haven't been able to call anywhere home. A lot of the songwriting was done from this place of simply not having a home base. We were the perennial guests."
"Some of the more somber moments come from a darkness I carry," admits Callie. "I'm not an optimist, and I suffer from insomnia and depression. Traveling around on highways and utilizing the faux likes of large cooperate hotels and chains can bring a person down. Songwriting is a way to speak about sad things in a pretty and concise way while providing a distraction from some of the realities of tour life. It's not all dreary though, and the enormous range of experiences give us the juxtaposition of happy, easygoing vintage music and dark lyrics."
That subtle balance has transformed The Ballroom Thieves into a quiet phenomenon. Following two EPs, the group released their full-length debut A Wolf in the Doorway in 2015. Between marathons of touring, 2016's Deadeye would spawn a string of fan favorites. They claimed real estate on prime Spotify playlists (e.g. "Your Favorite Coffeehouse," "Relax & Unwind," "Morning Acoustic") with "Bees" cracking 10 million streams on the platform. Along the way, they sold out shows and delivered standout performances at festivals such as Boston Calling and Newport Folk Festival, while landing features at NPR, Baeble Music, Boston Globe, Paste, Earmilk, and many others.
In late 2017, they commenced work on Paper Crown, collaborating with producer Ryan Hadlock (The Lumineers, Brandi Carlile, Vance Joy) in Washington for the first time.
"Working with Ryan at Bear Creek was a completely new and unique experience," affirms Devin. "He naturally pushed us through our vulnerabilities, challenging the band to grow and apply some of his more pop sensibilities to our traditional 'Thieves sound.' The rustic wooded environment at Bear Creek also had a serious impact on the band's experience creating these songs as we found ourselves there at two very different times of year - once in the beautiful but smoky heat of August and again in February's more frigid rain season. The result was a pretty stark contrast in the sounds, tones, textures, colors, and feel between each song, which in itself is a reflection of this band and our journey. "
During the process, The Ballroom Thieves dramatically expanded their sonic palette. Electric guitars figured prominently, and the group wholeheartedly embraced the fifties and sixties pop and country influences such as Etta James, Ella Fitzgerald, Nina Simone, and Willie Nelson in addition to religiously spinning Dan Auerbach.
"It was an attempt to make contemporary music accessible for a large range of music lovers" explains Callie. "You can't deny those classics are special, and people across all generations have loved them for decades. Listeners keep coming back to them again and again for a reason."
Martin elaborates, "We liked mixing those old-school pop elements with our big harmonies and folk-sensible songwriting."
The band introduced the EP with the haunting "Only Lonely." It quickly generated over 3.9 million streams. Meanwhile, the single "Do Something" illuminates their evolution. Its smoky soul could very well have swooned right out of a Chicago jazz haunt and onto a California beach circa 1965. At the same time, it encases fiery rhetoric within those sweet sonics.
The Ballroom Thieves culled the EP title Paper Crown from a lyric in "Do Something." Representing the ephemeral nature of consumerism, corporate greed, and reality TV, it's symbolic of the fake coronation atop the country's hierarchy. At the same time, it proposes an alternative charge for unity in the face of this misdirection.
"It's a letter to this administration to do something kind," Callie exclaims. "This president is not a suitable representative for any human being, but ironically, many of the Americans rallying behind him are the ones who stand to suffer the most if he continues to bolster ideals that only work for people who look and live like him. For 'Do Something', instead of focusing on my cynicism about it, I was trying to have higher hopes, and maybe scream a little about what most of us are thinking."
Martin goes on, "It's unifying rather than being divisive. It points towards the fact we're all trying to navigate this situation together. We shouldn't be doing that as two separate factions."
Whether it's the hard-hitting "Can't Cheat Death" or the tearful, yet upbeat joy of "Almost Love," they make pronounced creative strides together.
"To me, this EP is a transition," Martin states. "It leads us towards the next project and stands as an evolution of our sound. Just like any band, we keep evolving and writing new songs that require creativity in production. I hope we take our older fans with us while making some new ones along the way."
In the end, The Ballroom Thieves strain light through all the darkness.
"We hope people find it catchy and inviting," Callie leaves off, "but are also able to find a likeness and connection to any of the ideas we express and the music we love to create."
http://www.ballroomthieves.com/
https://www.facebook.com/ballroomthieves/
https://twitter.com/BallroomThieves
https://www.instagram.com/ballroomthieves/
Posted to: Upcoming Events at the Shea.