Shea Presents: Cinemastorm!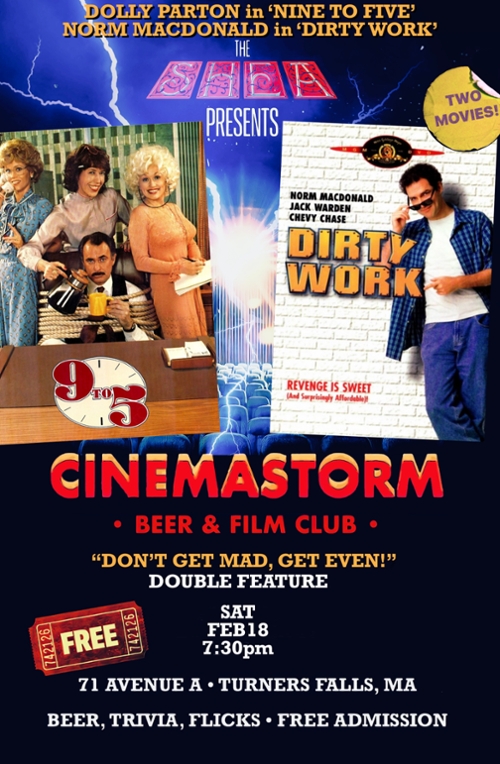 Saturday, February 18, 7:30 pm until 11:00 pm
Beer. Flicks. Trivia. Free Admission!!
"DON'T GET MAD, GET EVEN"
DOUBLE FEATURE
FEB 18 - 7:30pm
Dolly Parton in 'Nine to Five'
Norm MacDonald in 'Dirty Work'
'NINE TO FIVE' (1980) stars Dolly Parton, Lily Tomlin and Jane Fonda as three overworked employees who seek revenge against their sexist, egotistical, lying, hypocritical bigot of a boss (Dabney Coleman). This is Dolly Parton's feature film debut—and the first female-dominated film to gross $100 million dollars at the box office. Directed by Colin Higgins.
'DIRTY WORK' (1998) stars Norm MacDonald, Artie Lange, Chevy Chase, Chris Farley and Jack Warden based on the twisted short story 'Vengeance is Mine, Inc.' by beloved children's book author Roald Dahl. Two best friends start a revenge-for-hire business that spirals out of control in this laugh-till-it-hurts dark comedy masterpiece (yep, it's one of the funniest movies ever made) from director Bob Saget.
Posted to: Upcoming Events at the Shea on 2023-02-15 10:25:48 (updated 2023-02-15 10:57:25).