Shea Presents: Tiffany!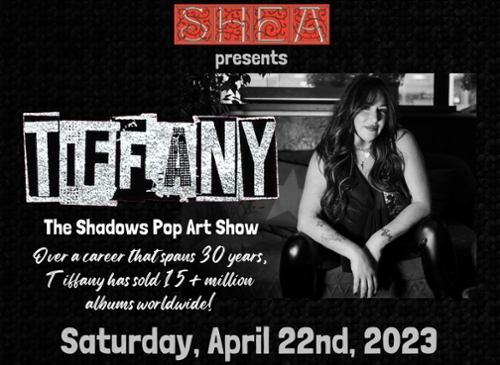 Saturday, April 22, 8:00 pm until 10:00 pm
The Shea Theater is pleased to present superstar, Tiffany! Yes, THAT TIFFANY!
The Shea Presents:
Tiffany
WHEN: Saturday, April 22nd, 2023 at 8pm
WHERE: Shea Theater Arts Center, 71 Avenue A, Turners Falls, MA
TICKETS: $28 in advance/ $36 at the door
The Shea Theater is pleased to present superstar Tiffany on April 22nd, 2023.
ABOUT TIFFANY
A legendary pop star, Tiffany earned two U.S. number one hit singles with "I Think We're Alone Now" and "Could've Been," and set a record as the youngest female artist to top the Billboard charts with her debut album. In 2000, Billboard ranked Tiffany's album The Color of Silence as the "Top Ten Best Albums of the Year." In 2011, she released her country-pop LP Rose Tattoo, embracing the music she grew up on. Her 2016 critically acclaimed A Million Miles marked the first time Tiffany had been a co-producer on her own record. As a writer and co-producer on her 10th studio album, Pieces of Me, Tiffany fused elements of rock and pop, while still showcasing her trademark tendency for big radio friendly choruses. Now she's ready to bare her soul and invite listeners to walk with her into the light via her 11th studio album, Shadows, out November 25, 2022. She has sold more than 15 million albums to date.
Tiffany has obtained a long and storied career. She released the 2019 version of "I Think We're Alone Now" and the music video has more than two million views. In the summer of 2019, she performed 55 shows in 53 cites for more than 600,000 fans on the North American Mixtape Tour with New Kids on the Block, Debbie Gibson, Salt-N-Pepa and Naughty By Nature. In the fall of 2019, Tiffany kicked off her 40-city, North American Pieces of Me Tour with rave reviews for her new pop/rock sound and live show.
Today, her goal is to continue writing songs for herself and others, cementing her status in the industry as a powerhouse hit maker and go-to songwriter. Tiffany also has combined her love of music and food to launch a cooking club, Let's Food with Tiffany. In 2020, she digitally released her EP Pieces of Me: Unplugged and her first, original Christmas song, "Angels. In 2021, Tiffany headlined the North American Shadows tour with Johnny Martin and Scot Coogan of L.A. Guns. This year, she released the new single "I Like The Rain" and new album Shadows via Deko Entertainment.
ABOUT THE SHEA THEATER
The Shea provides performance space for a variety of attractions designed to appeal to the widest range of tastes. Musical offerings include folk, pop, rock, swing, jazz, country and traditional. Theatrical productions encompass musical comedy, drama, comedy, and political satire. In addition, audiences can take advantage of magic shows, children's shows and silent film revivals.
The Shea, with the help of a wonderful corps of volunteers, has been attracting a growing audience and as a result is bringing people into Turners Falls from an ever larger geographical area. This growth has put the Shea on a firmer financial footing, providing the basis for expectations of an even more exciting future for this vital community asset.
https://sheatheater.org/
TICKETS
All ages
$28 adv/$36 day of show
#gettotheshea
Posted to: Upcoming Events at the Shea on 2023-02-24 01:20:14 (updated 2023-02-24 01:22:53).