The Performance Project Presents: MOTHER TONGUE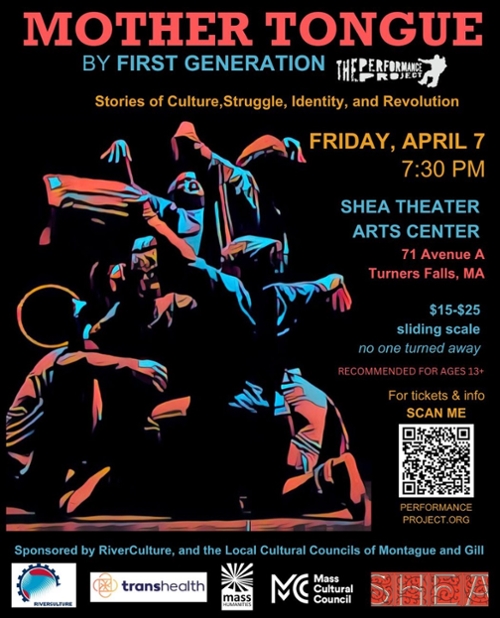 Friday, April 7, 7:30 pm until 9:30 pm
 "Mother Tongue" is an original multilingual physical theater performance, created by Springfield-based First Generation Ensemble. This piece is presented with support from Transhealth, RiverCulture, the Shea Theater, and MCC Local Cultural
Performance Project's First Generation Ensemble presents "Mother Tongue" at 7:30pm on Friday, April 7 at the Shea Theater Arts Center, 71 Avenue A in Turners Falls, MA.
Developed by members of First Generation, an intergenerational arts and youth leadership organization based in Springfield, MA, "Mother Tongue" is inspired by family stories and events from Congo/Tanzania, Bhutan/Nepal, South Sudan, Holyoke, and Springfield. The performance incorporates movement, music, dance, and weaves together stories in Arabic, Swahili, Nepali, and English. Themes addressed in this 90-minute original work include culture, identity, diaspora, masculinity, xenophobia, racism and revolution, among others.
Tickets are sliding scale $15-$25. No one will be turned away. Appropriate for ages 13+
FOR TICKETS
This piece is presented with support from Transhealth, RiverCulture, the Shea Theater, and MCC Local Cultural Councils of Montague and Gill
Posted to: Upcoming Events at the Shea on 2023-03-08 16:26:15 (updated 2023-04-03 14:20:29).