New England Repertory Orchestra Presents: BANISHING GRIEF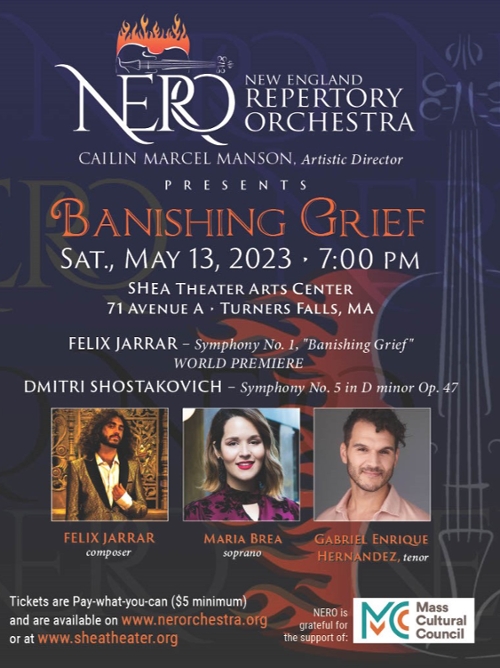 Saturday, May 13, 7:00 pm until 9:00 pm
NERO PRESENTS A NOT-TO-BE-MISSED WORLD PREMIERE SYMPHONY: BANISHING GRIEF
The New England Repertory Orchestra (NERO) continues its work championing the voices of diverse composers and performers with a world premiere Symphony No. 1, "Banishing Grief" by acclaimed pianist and composer Felix Jarrar, with soloists soprano Maria Brea and tenor Gabriel Enrique Hernandez, followed by one of the most moving symphonies of the 20th Century, Dmitri Shostakovich's Symphony No. 5. With these two pieces, NERO celebrates the victory of the human spirit against oppression in this inspiring concert on May 13, 2023, at 7pm, at the Shea Theater in Turners Falls, MA.
Banishing Grief tackles mental health as a social justice issue and how it relates to processing grief. It unpacks the trauma and healing, rejecting the traditional "stages of grief" as they are taught in favor of reflection through personal experience using gemstones and their associated colors to describe the movement from turmoil to empowerment.
Symphony No. 5, composed by Dmitri Shostakovich in 1936-37, is the creation of an individual through tragedy into hopefulness. It starts with the hero suffering a psychological crisis in the first movement. The second movement provides a respite. In the third movement, we see the beginning of recovery. With the finale comes the victory of rebirth. Shostakovich said about the work, "[the] main idea is the sufferings of mankind and an all-affirming optimism."
Tickets can be purchased in advance through the NERO website, www.nerorchestra.org, or directly through the Shea Theater website, www.sheatheater.org. This event is Pay-What-You-Can with a minimum suggested ticket price of $5 per person, but attendees can pay anything above that. Donations for NERO will also be accepted electronically at the concert.
COVID-19 protocol: To protect our artists, audience, and our community, each attendee will be asked to remain masked for the duration of the performance.
For more information, visit www.nerorchestra.org.?
Guest Artists
With music described as "dreamlike" (Boston Globe) and "delightfully cruel" (Operawire), NYC-based Felix Jarrar is a composer and pianist with "(strong) dramatic instincts" (Lewis Spratlan, 2000 Pulitzer Prizewinner in Music) whose "music flows from him in the most natural and lively way" (Tom Cipullo). His works are praised as "experimental and beautifully composed" (Broadway World) with "lush and memorable melodies" (Operawire). His list of accomplishments includes performances at Symphony Space, (le) poisson rouge, Feinstein's/54 below, the BAM! Fisher Hillman Studio, Roulette Intermedium, and Carnegie Hall's Weill Recital Hall. His works are performed internationally by artists from the Metropolitan Opera, the Atlantic Music Festival Orchestra, the duo Unassisted Fold, and Spark Duo.
Maria Brea, soprano, is one of Venezuela's most acclaimed opera singers. Praised for being a "very classy Venezuelan soprano" by The Arts Desk, "versatile soprano" by Tampa Bay and "luxurious soprano" by Opera Wire and as Micaela; "her lush tones and thrilling diminuendos were warmly received" by The Brooklyn Reporter. Ms. Brea's signature roles include Gilda in Verdi's Rigoletto, Micaëla in Bizet's Carmen, Nedda in Leoncavallo's Pagliacci, Musetta in Puccini's La Bohème, Agrippina by Handel, Donna Anna in Mozart's Don Giovanni, Elena in Giménez's El Barbero de Sevilla where she was awarded Best Musical Actress given by the Hispanic Organization of Latin Actors. Ms. Brea is a fine recitalist and promoter of art song as well as an avid Oratorio singer. Maria has performed throughout the world, from Cardiff to Paris, stunning her audiences with her exciting renditions, sparkling clarity, and dazzling range.
Puerto Rican-American tenor Gabriel Hernandez has been performing since childhood and believes in the power of community and collaboration to create meaningful art. They have been in collaboration with queer community members in the NYC area working on projects that speak to towards community experience, both through locational and personal experience. In the fall of 2021, Gabriel premiered their new project Taking Up Space: Queer Identity in Opera, a photo series dedicated to documenting queer experience in opera by juxtaposing the past and present.
To learn more about NERO's Guest Artists, visit www.nerorchestra.org/guest-artists.
About the Director
Cailin Marcel Manson is currently Associate Professor of Practice in Music and Director of Music Performance at Clark University, Music Director of The Keene Chorale, Music Director of Barn Opera and Artistic Director of the New England Repertory Orchestra.
An operatic baritone, conductor, and Philadelphia native, Cailin has toured as a soloist and master teacher at major concert venues throughout the United States, Europe and Asia with many organizations, including the Radio-Sinfonieorchester Stuttgart, SWR Sinfonieorchester, Taipei Philharmonic, Bayerische Staatsoper - Münchner Opernfestspiele, Choral Arts Society of Philadelphia, Chamber Orchestra of Philadelphia, Teatro La Fenice, Teatro San Carlo, Konservatorium Oslo, and the Conservatoire de Luxembourg.
He has also been a guest cantor and soloist at some of the world's most famous churches and cathedrals, including Notre Dame, Sacré-Coeur, and La Madeleine in Paris, San Marco in Venice, Santa Maria del Fiore in Florence, San Salvatore in Montalcino, Santa Maria Maggiore and San Giovanni in Laterano in Rome, Thomaskirche and Nikolaikirche in Leipzig, and Wieskirche in Steingaden.
Cailin has held positions as Music Director of the Vorarlberger Musikfest, Music Director and Conductor Laureate of the Chamber Symphony of Atlantic City, Artistic Director and Conductor of the Montgomery County Youth Orchestra, Chair of Vocal Studies at the Hazleton Conservatory for the Performing Arts, Director of Music at The Putney School, and as Music Director of the Bennington County Choral Society. He has also served as a member of the faculty of the Vermont Governor's Institute on the Arts and the Performing Arts Institute of Wyoming Seminary. He also founded and directed the Germantown Institute for the Vocal Arts and the Germantown Concert Chorus.
Cailin is a frequent guest conductor, clinician, presenter, panelist, and adjudicator for conventions, conferences, competitions, and music festivals. Cailin studied voice performance at Temple University, and opera performance and orchestral conducting at the Universität Mozarteum Salzburg.
Press contacts can contact him directly at manson@nerorchestra.org, or through the NERO office number at (413) 319-3558.
History of NERO
On June 20, 2020, Cailin Marcel Manson made a public post casting a wide net over all social media outlets, asking who wanted to be a part of forming something new. Over 300 people nationwide responded to that post. These folks became online cohorts who talked about the issues facing the classical music industry, exhaustively for months (via Zoom), before deciding how best to move forward in their own respective regions of the country.
A month later, on Jul 20, 2020, Manson put out another public post asking for volunteers to gather outside, socially distanced in his backyard in Springfield, MA, to play symphonic music for the joy of it. Over 100 people responded to that call, and an orchestra of 30 eventually gathered to connect and make music.
Once some clarity of purpose was reached in Jan 2021, Manson reached out again to those who responded to both original calls, to do in-person ensemble reading sessions in May 2021 as everyone navigated the rollout of the vaccines.
From all of those powerful events, some financial research and policy study, and a ton of hard work and very difficult conversations, the New England Repertory Orchestra (NERO) was eventually formed.
NERO starts with those same local professional artists, involved with Manson's call from the beginning, creating a core ensemble with the goal of bringing more artists of color into our midst. That mission of intentional inclusion and restoration, that mission of justice, is what they all agreed to work on building together -- an ensemble that would unabashedly prioritize those who have been historically excluded from plausibly living out their profession in classical music.
Posted to: Upcoming Events at the Shea on 2023-04-06 15:46:24 (updated 2023-04-25 21:47:50).