Eggtooth Productions Presents: Phallic Times Valentine's Day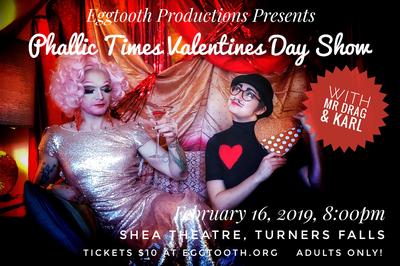 Saturday, February 16, 2019, 8:00 pm until 9:30 pm
8.00 PM Show. $10.00 Tickets. Adults only!

Some of you may be asking this Valentine's, where is the love? Well join Mr Drag, Karl and their cohort of characters as they transport you to a seedy little spot, where the gin is cold and the piano is hot! If you're a happy couple, a flirting single or falling into endless love, get ready for a night of fun, frolic and flirtation!
They will sing, they will dance, they will lap dance! This one night only performance is not to be missed. And this time it's adults only.

Erotica Neurotica Pop-up Shop in the Shea Lobby starts at 7:00 pm featuring genital jewelry, kinetic cocks, yoni soaps, artsy bras, oo la la lingerie, etc. for your shopping pleasure before, during and after show.

AND just across the street, Loot will be open late so you may shop and listen to some fun tunes as the DJ spins the early night away before the show.
Posted to: Upcoming Events at the Shea.