SOLD OUT Signature Sounds Presents: Lori McKenna SOLD OUT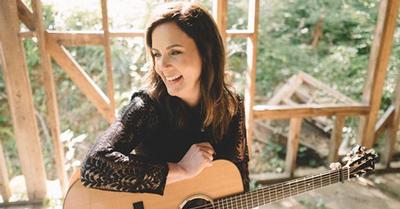 Friday, August 2, 2019, 7:30 pm
Doors 7:00/Show 7:30. Tickets $25.00 Advance/ $30.00 Door. Tickets are available online or by calling the Signature Sounds Box office at (413) 341-3317
"I love people's stories about their families...I love the way families tic, and the ways we're all crazy and love each other. There's so much your family gives to you that you don't even realize it's giving," says Lori McKenna.
McKenna is home in Stoughton, Massachusetts, just outside of Boston. Holed up in her basement writing room, the Grammy-winning singer-songwriter is reflecting on The Tree, her much-anticipated new collection of the smart roots music that has become her hallmark. The Tree takes one of McKenna's signature themes––family––and builds a tapestry of experiences she has lived and overheard, been told and dreamed up, to create a stunning ode to life's defining relationships.
Home and the people who make it have captivated McKenna for years. "I got married at 19 and had my oldest at 20," she says. "I didn't grow up all the way before I started having children. I didn't have a lot of time being an adult that was just me––I spent so much time worrying about someone else. So I do like to address how I feel about things, for sure, but I also like to think about what other people might feel, too."
McKenna was raised in a Boston family of six children. She met her husband Gene in third grade. They have five kids. And over the last three decades, as she became a wife and mother, she has also emerged as one of the most respected, prolific singer-songwriters in popular music. Her 2016 release The Bird and the Rifle netted three Grammy nominations, along with Americana Music Association nods––all firsts for McKenna as an artist. Then, she made history: In 2016, she became the first woman ever to win the Country Music Association's Song of the Year two years in a row thanks to co-writing Little Big Town's "Girl Crush" and penning Tim McGraw's no. 1 "Humble and Kind" solo. Both songs also clinched back-to-back Grammy wins for Best Country Song. In 2017, she became the Academy of Country Music's first female Songwriter of the Year. The list of stars who have recorded McKenna gems continues to grow: Reba, Alison Krauss, Faith Hill, Keith Urban, Hunter Hayes, and others.
The Tree is McKenna's eleventh studio album. It's her second collaboration with producer Dave Cobb (Chris Stapleton, Jason Isbell, Brandi Carlile, Sturgill Simpson), and the chemistry generated by the pair and their elite supporting cast of engineers and musicians that helped fuel The Bird and the Rifle is back. "I've seen Dave work in a few different environments, and I'm always blown away by the way he can handle everybody's emotions," McKenna says. "He can come up with the best equation of how everybody's feeling right then in the room, and then what song will be best––the one we'll get right in that moment because of how we all feel. It's not like we're making a record. We are just sitting around, playing the songs together."
When asked what she hopes listeners experience once they hear The Tree, McKenna doesn't hesitate.
"Every single person in the world has such awesome stories. I love to write songs that just shine a little light on that for a second. Maybe our stories remind us of our families and what they give us. It's beautiful, and sometimes we take it for granted."
Posted to: Upcoming Events at the Shea.