Mamma's Marmalade + Gaslight Tinkers Halloween Bash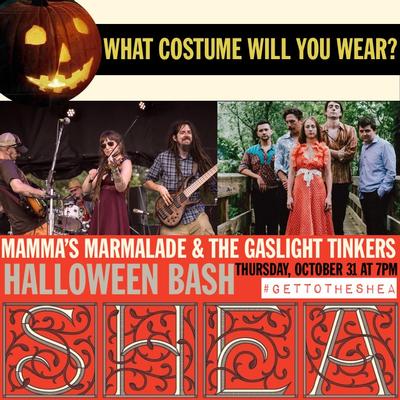 Thursday, October 31, 2019, 7:00 pm
Presented by The Shea. All Ages. Costumes Encouraged!


Come dressed in your Halloween finest and dance your hearts out! More information to be announced. All ages encouraged!
#GETTOTHESHEA

When: Thursday, October 31st at 7pm

Mamma's Marmalade
With a fresh take on traditional American music, Northampton, MA-based progressive bluegrass band Mamma's Marmalade transforms the conventional bluegrass experience into a high octane hootenanny that refuses to let you sit. Since their formation in 2014, the five piece string band has been fusing diverse musical backgrounds into a sound that bursts at the seams with energy, exuding a pure joy for creating music. Mamma's honest lyrics and warm, acoustic tones invite listeners back to a time when wooden instruments and sweet vocal harmonies captivated the hearts of America. Experimenting with intricate instrumentals and lively originals, their music brings the genre to new and unexpected places.

Mamma's Marmalade has been compared to innovative powerhouses such as John Hartford, Newgrass Revival, Old and In the Way, and Bill Monroe's Bluegrass Boys. Over the years, members Lily Sexton (fiddle, vocals), Mitch Bordage (mandolin, vocals), Rich Hennessy (banjo, vocals), Curtis Bordage (bass) and Sean Davis (guitar, vocals) have retained the explorative and fun-loving spirit that drew them together in the first place. The band has supported Mile Twelve, Jayme Stone, Twisted Pine, Bella's Bartok, and Yarn.

African, Caribbean, Funk, Reggae, and Latin grooves meet traditional fiddle music. It's the genre-bending future of the music of the past.

The Gaslight Tinkers' blend of global rhythms creates a joyously danceable sound around a core of traditional New England old time and celtic fiddle music, merging boundless positive energy with melody and song. Since its formation in 2012 the band has lit up the East Coast, the West Coast, and the Caribbean, headlining clubs, dances, and major festivals.

Playing what The Valley Advocate describes as "Music that consistently fizzes and pops with unexpected textures and turns," The Gaslight Tinkers' shows are packed with delightful surprises, elated crowds, and exuberant musicianship. The sound and energy of Audrey, Jopey, Garrett, and Peter are universally irresistible.

Posted to: Upcoming Events at the Shea.