Shea Presents: Eavesdrop w/ Special Guest Hannah Rose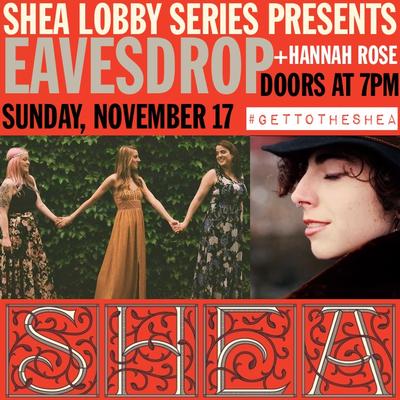 Sunday, November 17, 2019, 7:00 pm
The Lobby Tapes Listening Series returns.
Eavesdrop
Hailing from the Northeast, these Pioneer Valley natives provide a sound all their own; a perfect combination of soulful vocals, intricate harmonies, contagious melodies and moving rhythm. Originating as a trio, Kara Rose Wolf, Kerrie T. Bowden and Laura Marie Picchi maintain their vocal roots and continue to shape their sound through writing and collaborative instrumentation. Eavesdrop's debut EP, The Afterglow, showcased the trio's vocally charged acoustic, folk, soul roots. With their latest release, Tides, the band has expanded into a six piece ensemble incorporating some of the valley's finest musicians. Co-produced by Alan Evans and Ross Bellenoit, Tides is the band's first full length album. It brings the listener on a ride alongside the three songbirds, taking a deeper look into the life events that fostered their creativity.
Both records are available on all online platforms for streaming or download.

CHECK OUT:
www.eavesdropband.com

Hannah Rose
Hannah Rose "spins tales of forgotten youth from suburban forts to Dutch Kasteels."Blues-infused indie rock. Hailing from the banks of the Hudson River, Hannah now resides in the New England woods. Her vocal-driven music reflects the musings of an old soul with contemporary style. Inspired by her environment and drawing upon whimsical natural imagery, she weaves an intimate story into her originals and covers.

HAVE A LISTEN:
https://www.youtube.com/watch?v=SEYBTjR7VxM&feature=youtu.be&fbclid=IwAR0T518Tjg6di34SBYqrv008Q8hH1N77ZQXaCjQCshp7yfjHpCDY174OJv8
Posted to: Upcoming Events at the Shea.