Franklin County Chamber of Commerce Presents: Cider Days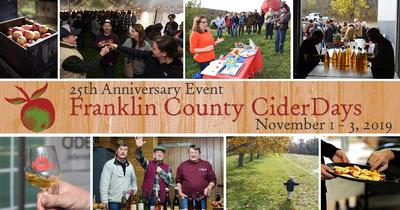 Sunday, November 3, 2019, 11:00 am until 5:00 pm
Free and open to the public!
Free events at the Shea Theater
Featured Ciders on tap at the Shea bar by Headwater Cider and West County Cider
Saturday
11:30am -12:30 pm – The Apple Genome Project & Tomorrow's Apple with Dr. Cameron Peace, Washington State University
1:00pm -2:00 pm – Tom Oliver (Oliver's Cider and Perry, Herefordshire, UK), answers your Questions: A Q & A
2:30 pm – 3:30 pm - 19th Century Pears, A Ruling Passion. William Lewis's Pear Orchard, 1861 - 1894, with Christie Higginbottom
Sunday
11:30am - 12:30 pm – Traveling the Cider Road in a Group of Solo w/Ria Windcaller and Al Sax
1:00 am – 2:00 pm -The Road Ahead: The Future of US Cider, a discussion with the United States Cider Association
2:30 am – 3:30 pm - Making Cider with Cannabis w/ Paul Correnty and the Merry Makers
What else is happening in Turners Falls?
All Weekend: 25 Years of Cider and CiderDays exhibit at the Discovery Center
The Official Cider Days bookstore is at "Two Birds" 106, Avenue A, Turners Falls. The storefront will be transformed into a cider author's bookstore and lounge, complete with signings.
Tandem Cider Tasting and apple display at LOOT
Turners on Tap – check the ciderdays website https://ciderdays.org/ for Cider on Tap at local restaurants and bars
Saturday: United States Cider Makers Association Cider Salons — The continent's longest-running hard cider tasting with more than 120 individual cider brands from across North America and Europe. This year, the Salons will be held in a large tent in Unity Park, on the Connecticut River in Turners Falls, featuring easy access from Route 2 and I-91. Convenient parking in lots across and next to the venue and on the side streets in Turners Falls. Two sessions — 3:30 - 5:00 and 5:45 - 7:15 (Saturday) $35/ticket BUY TICKETS
More events happening around the county can be found at CiderDays.org
Posted to: Upcoming Events at the Shea.