Shea Presents: CINEMASTORM!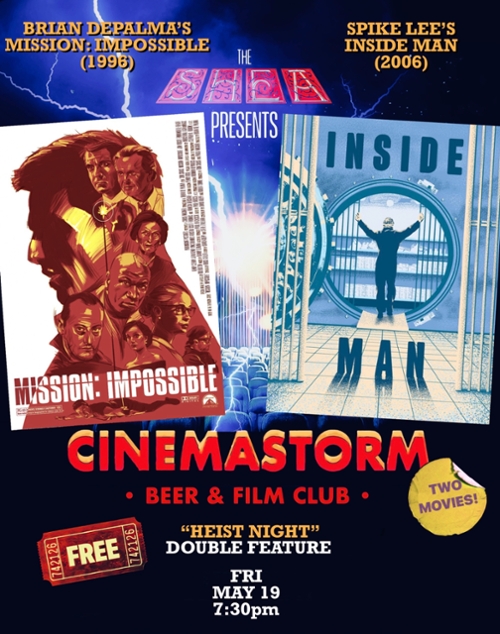 Friday, May 19, 7:30 pm until 11:00 pm
HEIST NIGHT! Beer. Flicks. Trivia. Free Admission!!
MISSION: IMPOSSIBLE (1996) - Directed by Brian DePalma. A masterpiece of action & suspense—with iconic set pieces and meticulous directorial flourishes, the film is a testament to DePalma's one-of-a-kind cinematic ingenuity. Featuring a brilliant screenplay by Robert Towne & David Koepp, an incredible score by Danny Elfman, and unforgettable stunts and camera work at every turn. With dazzling performances from Tom Cruise, Ving Rhames, Jean Reno, and Vanessa Redgrave, the film is a flawless exhibit of neo-Hitchcockian thrills.
INSIDE MAN (2006) - Directed by Spike Lee. A riveting cinematic gem that grabs you by the collar and won't let go. With masterful direction by Spike Lee and an ensemble cast that exudes sheer charm, this heist thriller is a tour de force wherein Denzel Washington, Clive Owen, and Jodie Foster play a mesmerizing chess game with a mysterious bank vault. The intricate screenplay keeps the audience guessing, while Terence Blanchard's big, jazz-inspired score sets an unforgettable mood. Inside Man is a triumph of tension—and a modern classic.
Posted to: Upcoming Events at the Shea on 2023-05-12 12:42:27 (updated 2023-05-12 12:42:27).