Shea Presents: Best of the 70s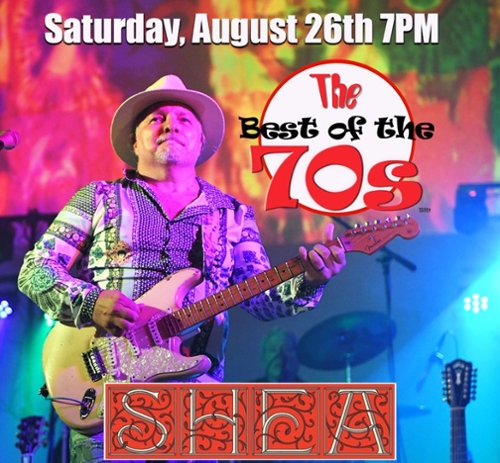 Saturday, August 26, 7:00 pm until 9:30 pm
The Shea Theater is pleased to present The Best of the 70s: a celebration of the Greatest Music of All Time!  
WHEN: Saturday, August 26th, 2023 at 7pm
WHERE: Shea Theater Arts Center, 71 Avenue A, Turners Falls, MA
TICKETS: $19.70 in advance/ $26 at the door
The Shea Theater is pleased to present the show "The Best of the 70s" a celebration of the Greatest Music of All Time! on Saturday, August 26th.
ABOUT THE BEST OF THE 70S
This great show features the timeless songs of Neil Young, The Beatles, Van Morrison, Rolling Stones, John Denver, Eagles, Neil Diamond, CSN, Bob Seger, Cat Stevens, The Band, Willie Nelson, Eric Clapton, Kenny Rogers, Led Zeppelin, Jimmy Buffett, David Bowie, Pink Floyd, Grateful Dead & More!
The reviews are in and if you love 70s music you will love this show! DizzyFish & The Uptown Horns continue to receive rave reviews for their epic performances. One reviewer said "The Best of the 70s" is the Best Show I have ever seen, and I lived in Boston for 10 years."
The Music is performed by the band DizzyFish. DizzyFish is led by its Singer & Lead Guitarist Eric Herbst. Eric & his band DizzyFish have rocked audiences sharing the stage with Steve Miller, Three Dog Night, Marshall Tucker, Rick Derringer and many others. Eric as well as being a powerful live performer has written and produced original songs recorded by musical legends B.B. King and Johnny Cash. If you love 70s music, don't miss this show!
ABOUT THE SHEA THEATER
The Shea provides performance space for a variety of attractions designed to appeal to the widest range of tastes. Musical offerings include folk, pop, rock, swing, jazz, country and traditional. Theatrical productions encompass musical comedy, drama, comedy, and political satire. In addition, audiences can take advantage of magic shows, children's shows and silent film revivals.
The Shea, with the help of a wonderful corps of volunteers, has been attracting a growing audience and as a result is bringing people into Turners Falls from an ever larger geographical area. This growth has put the Shea on a path an even more exciting future for this vital community asset.
https://sheatheater.org/
TICKETS
$19.70 adv/$26 day of show
All ages
Posted to: Upcoming Events at the Shea on 2023-05-27 18:01:26 (updated 2023-05-27 18:04:22).