Shea Presents: Reid Genauer and Assembly of Dust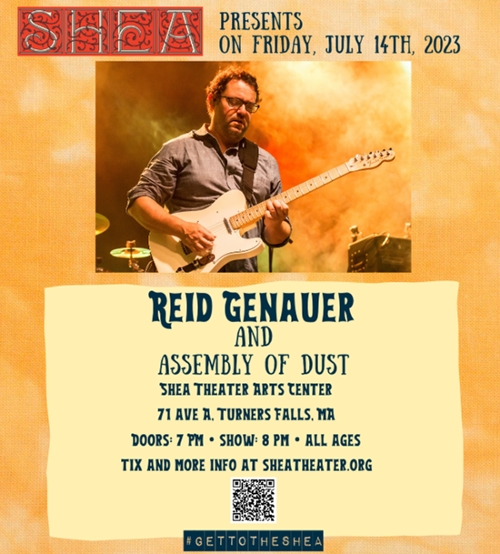 Friday, July 14, 8:00 pm until 10:00 pm
Doors 7:00/ Show 8:00
The Shea Presents:
Reid Genauer and Assembly of Dust
WHEN: Friday, July 14th 2023 at 8pm
WHERE: Shea Theater Arts Center, 71 Avenue A, Turners Falls, MA
TICKETS: $22 in advance/ $28 at the door
https://www.showclix.com/event/reid-genauer-and-assembly-of-dust-at-the-shea
Accessibility Notice: Our theater and first-floor gender-neutral restroom are wheelchair accessible. There will be alcohol on-site for this event.
ABOUT REID GENAUER AND ASSEMBLY OF DUST
"As a child I can remember locking myself in my room with a big old set of headphones and listening to The Band's Music From Big Pink album over and over again," said Reid Genauer, the lead singer and founder of the New York based quintet Assembly of Dust. "Besides loving the hell out of the music, I was intrigued with the production value in the recordings. As I listened I felt almost like I was there in the room with The Band at a moment of perfection. That intimate listening experience drew me in and is what inspired me to be a musician."
Drawing on that influence and countless others, over the last ten years Assembly of Dust has crafted a unique sound that recalls the likes of The Band, Traffic and Neil Young. They have taken that early 70's Americana swagger, put their own funky spin on it, and earned comparisons to the next generation of Americana heroes including Ryan Adams, Mumford and Sons, and Wilco. Hooky melodies, poetic lyrics, and a profound depth of musicianship prompted USA Today to say Assembly of Dust has what it takes to "dazzle the Alt-Country universe."
The allure of spacious production value has clung with Genauer his whole life and when he listened to Ray Lamontagne's 2010 album God Willin' & The Creek Don't Rise, he heard something that struck a chord deep within him. After just a few seconds sniffing around the liner notes he found the name he was looking for and within a couple of months Assembly of Dust was in the studio with engineer Ryan Freeland.
With three Grammys on the shelf and credits that include musical luminaries like Bonnie Raitt, Joe Henry, and Art Garfunkel, Freeland's aesthetic was exactly what Genauer was going for on Assembly of Dust's fourth studio album Sun Shot. "I've always had a penchant for acoustic music" said the songwriter. "While Sun Shot isn't an acoustic record by any stretch of the imagination it has the touch and nuances that allows the listener to be nearer to the music. It's certainly a mellower record, it's a vibey record, and it's the most singer-songwriter record we've done."
While the recording processes used on Sun Shot harkens back to an analogue past, the rest of the project was decidedly technology driven. In the summer of 2012, as they struggled with the realities of financing an artistic venture of this scale, the band launched a crowd sourced funding campaign through Kickstarter. Looking back on it Genauer talks about the project as more of a spiritual journey than simply a fund raising exercise. "When we went into it we were thinking of a black and white exchange of goods and services, but what we discovered was a weighty emotional interchange" he admitted. "The Kickstarter contributors demand something beyond a record and we found it to be a really intimate experience to craft special rewards for people who genuinely care about us and our music. It helped us truly appreciate the passion our fans feel for us and the depth of our community."
Sun Shot is one part Singer-Songwriter, one part Alt-Country and one part Rock and Roll, but the thread tying it all together is Genauer's heartfelt and beautifully written lyrics. In 2009 The New York Times praised Genauer's songwriting skills as some of the most eloquent "to emerge in the long wake of the Grateful Dead" and the songs on Sun Shot may be the best work of his career. The raw building blocks of Genauer's songs stand strong on their own and they are polished to brilliance in the hands of the band he's surrounded himself with: Adam Terrell (Lead Guitar), John Leccesse (Bass), and two newer members Jason Crosby (Piano and Violin) and Dave Diamond (Drums). Together Assembly of Dust has created an album laced with the influences Genauer recognized as a child. It's a recording with many rooms. Some are flashy and aloof, others bony and pale, but collectively they are Sun Shot.
ABOUT THE SHEA THEATER
The Shea provides performance space for a variety of attractions designed to appeal to the widest range of tastes. Musical offerings include folk, pop, rock, swing, jazz, country and traditional. Theatrical productions encompass musical comedy, drama, comedy, and political satire. In addition, audiences can take advantage of magic shows, children's shows and silent film revivals.
The Shea, with the help of a wonderful corps of volunteers, has been attracting a growing audience and as a result is bringing people into Turners Falls from an ever larger geographical area. This growth has put the Shea on a firmer financial footing, providing the basis for expectations of an even more exciting future for this vital community asset.
Posted to: Upcoming Events at the Shea on 2023-06-26 13:48:19 (updated 2023-06-29 12:16:08).