Shea Presents: Neon Wave 80s Monster Bash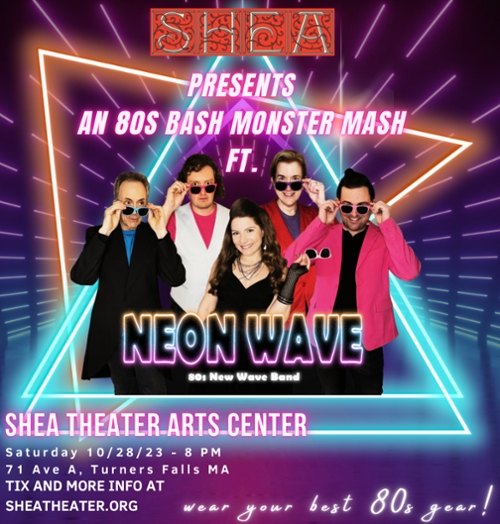 Saturday, October 28, 8:00 pm until 10:00 pm
Wear your best 80's gear! TICKETS: $19.80 in advance/ $25 at the door
The Shea Presents:
Neon Wave 80s Bash Monster Mash
WHEN: Saturday, October 28th 2023 at 8pm
WHERE: Shea Theater Arts Center, 71 Avenue A, Turners Falls, MA
TICKETS: $19.80 in advance/ $25 at the door
**WEAR YOUR BEST 80s GEAR!***
Accessibility Notice: Our theater and first-floor gender-neutral restroom are wheelchair accessible. There will be alcohol on-site for this event.
ABOUT NEON WAVE
Neon Wave Band is New England's number one 80's New Wave Tribute Band. The band dresses and sounds just like the popular 80's New Wave artists from top MTV videos. Wear your best 80's outfit or neon colors and get ready for a surprise during "Sunglasses at Night" that will have you glowing! Create new memories to unforgettable songs as you're taken back to your favorite decade. Neon Wave brings an electrifying experience filled with high energy talent and songs that you can dance to all night long!
ABOUT THE SHEA THEATER
The Shea provides performance space for a variety of attractions designed to appeal to the widest range of tastes. Musical offerings include folk, pop, rock, swing, jazz, country and traditional. Theatrical productions encompass musical comedy, drama, comedy, and political satire. In addition, audiences can take advantage of magic shows, children's shows and silent film revivals.
The Shea, with the help of a wonderful corps of volunteers, has been attracting a growing audience and as a result is bringing people into Turners Falls from an ever larger geographical area. This growth has put the Shea on a firmer financial footing, providing the basis for expectations of an even more exciting future for this vital community asset.
TICKETS
All ages
$19.80 adv/$25 day of show
#gettotheshea
Posted to: Upcoming Events at the Shea on 2023-09-05 18:32:57 (updated 2023-09-30 18:43:31).