Spindrift Theatre Presents Silent Sky by Lauren Gunderson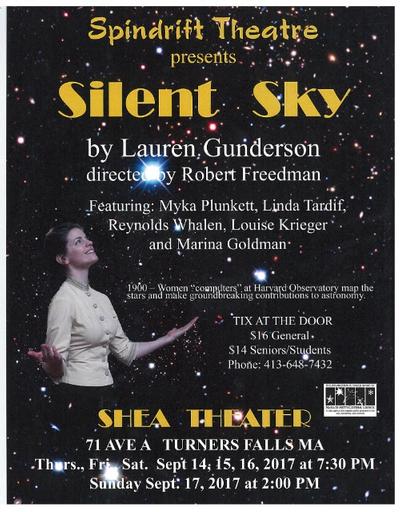 Sunday, September 17, 2017, 2:00 pm
$16.00 General Admission. $14.00 Seniors/Students. Tickets available online and at the door.
When Henrietta Leavitt begins work at the Harvard Observatory in the early 1900s, she isn't allowed to touch a telescope or express an original idea. Instead, she joins a group of women "computers," charting the stars for a renowned astronomer who calculates projects in "girl hours" and has no time for the women's probing theories. As Henrietta, in her free time, attempts to measure the light and distance of stars, she must also take measure of her life on Earth, trying to balance her dedication to science with family obligations and the possibility of love. The true story of 19th-century astronomer Henrietta Leavitt explores a woman's place in society during a time of immense scientific discoveries, when women's ideas were dismissed until men claimed credit for them. Social progress, like scientific progress, can be hard to see when one is trapped among earthly complications; Henrietta Leavitt and her female peers believe in both, and their dedication changed the way we understand both the heavens and Earth.
"…sheer magic [is] in Lauren Gunderson's SILENT SKY…Gunderson [writes] economically and with bursts of smart, infectious humor." —San Francisco Chronicle. "…SILENT SKY could act as a simple reminder of what a pleasant, thought-provoking evening at the theater ought to look like. It's a lively, funny, accessible play that's alive with interesting ideas." —ArtsAtl.com. "[SILENT SKY] is a startling, entertaining true story of a brilliant, history-making woman—hitherto unknown to many of us." —AtlantaInTown.com. "Lauren Gunderson's luminously beautiful play SILENT SKY is an intellectual epic told on an intimate scale. Bottom line: Heavenly." —Atlanta Journal-Constitution.
This play features a cast of local Valley talent: Myka Plunkett, Linda Tardif, Marina Goldman, Louise Krieger, and Reynolds Whalen.
Posted to: Upcoming Events at the Shea.