DSP Shows Presents- Sarah Jarosz: Polaroid Lovers Tour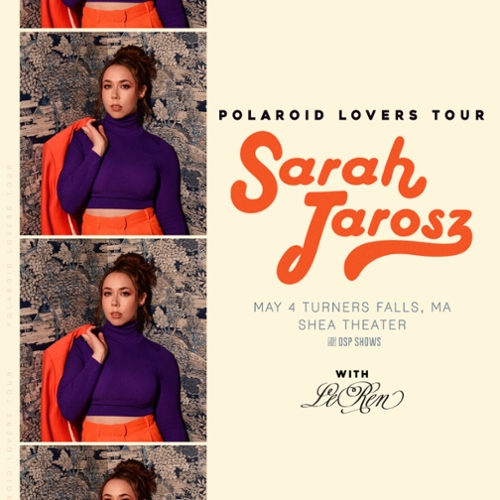 Saturday, May 4, 2024, 8:00 pm until 10:00 pm
W/S/G Le Ren. Reserved Seating Show. VIP package available!
Polaroid Lovers VIP Experience Packages Include:
One (1) premium reserved ticket
Pre-show soundcheck performance
Q&A with Sarah
Group photo with Sarah (Sarah stays on stage)
Exclusive poster signed by the artist
Early entry into the venue
Four-time GRAMMY winner Sarah Jarosz has announced her new album, Polaroid Lovers. The record is set for release on January 26th, 2024 via Rounder Records. To mark the occasion she has shared the album opener, "Jealous Moon," and its companion video. WATCH HERE. The song finds Jarosz backed by a decidedly more electric band, with her Texas lilt as clear and evocative as ever. Polaroid Lovers is available for pre-order today digitally and on vinyl with gray, lavender, orange and green splatter variants. Indie retailers will also have a special blue and green splatter vinyl. For more information visit https://store.sarahjarosz.com/
Sarah Jarosz on "Jealous Moon"
I wrote this song with Daniel Tashian in Monteagle, TN on a screened in porch with birds chirping all around. It was a warm summer afternoon. It started as a quiet melody on ukulele and nylon string guitar, but when we got to the studio it became something much more powerful. It's a song about the times when the parts of ourselves that we try to keep hidden rise to the surface and we have no choice but to ride the wave.
Sometimes that means doing your own thing to figure it out so you can emerge stronger on the other side. It's not about the end of a relationship, but rather a moment of self reflection and a promise to keep showing up even when things get tough. Once Daniel played the opening riff on piano I knew it had to open the album. I'm always seeking to push myself into new sonic territory, and this song gave me permission to not hold back.
The seventh album from Sarah Jarosz finds the highly decorated songwriter at the apex of change. A Texas native, she's spent most of her adult life living in New York City, but shortly before writing the album Jarosz left her adopted home to join her soon-to-be husband in Nashville, TN. The geographic shake-up led to a sonic one as well for Polaroid Lovers. For the first time in her career she opened herself up to collaborators, leading to writing sessions with Daniel Tashian, Ruston Kelly and Natalie Hemby. The creative reorganization of her writing process evolved to include a much richer and more electric sound in the studio and being in Nashville meant access to a world of hot shot players. She tapped guitarist Rob McNelley (Miranda Lambert, Carrie Underwood), Tom Bukovac (Tom Petty, Vince Gill) on guitar and organ, her husband- bassist Jeff Picker (Nickel Creek), and drummer Fred Eltringham (Sheryl Crow, Lucinda Williams) for the album recording. Tashian took the helm as producer and the whole album was laid down at the legendary Sound Emporium.
As it goes with all change, Jarosz's major life events had her feeling contemplative. While sitting on the precipice of adulthood, Polaroid Lovers finds her reflecting on past loves, childhood dreams, the places she lived in and all the versions of herself that she's been. Although the listener experiences the sonic shift forward, the album's subject matter is a photo album of the past. Jarosz has never sounded more assured. Polaroid Lovers is filled with the kind of confidence that comes from hard won life experiences and the conviction of someone who truly knows herself.
Sarah Jarosz released her debut album at the age of 18 and was immediately nominated for her first GRAMMY. Raised in Texas, she began playing mandolin at age 10 and soon after guitar and banjo. To date, she has released six studio albums, has netted ten GRAMMY Nominations and four wins. In 2018, she joined Sara Watkins of Nickel Creek and Aoife O'Donovan to form the supergroup, I'm With Her. The group released their debut album See You Around, and won duo/group of the year at the Americana Awards. Their song, "Call My Name" won the GRAMMY for Best American Roots song.
More About Sarah Jarosz and Polaroid Lovers:
The seventh full-length from four-time Grammy Award-winner Sarah Jarosz, Polaroid Lovers is an album-long meditation on those strangely ephemeral moments that indelibly shape our lives. "What I love about a Polaroid is that it's capturing something so fleeting, but at the same time it makes that moment last forever," says the Texas-born singer/songwriter/multi-instrumentalist. "It made sense as a title for a record where all the songs are snapshots of different love stories, and there's a feeling of time being expansive despite that impermanence." Thanks to the rarefied alchemy that infuses all of Jarosz's output — her finely wrought lyricism, ravishing vocal work, virtuosic yet unfettered musicality — Polaroid Lovers performs the much-needed magic of leading us toward a heightened sense of presence, all while casting a lovely spell with her timelessly powerful songs.
The follow-up to 2020's studio album World on the Ground (winner of the Grammy Award for Best Americana Album) and 2021's song cycle Blue Heron Suite, Polaroid Lovers embodies a bold new vitality that has much to do with a deliberate shift in Jarosz's writing process and sonic approach. "Historically I've been somewhat closed off to co-writing, but in the past couple of years I've felt curious to get out of my comfort zone," says the newly Nashville-based artist, who released her debut album at just 18-years-old. "For a long time it was important to me to write for myself, so that I wouldn't get lost in those rooms full of amazing writers. But now that I'm more confident in my musical identity, I know I can collaborate but still stay true to my own voice." In one of her first co-writing sessions for Polaroid Lovers, Jarosz joined forces with Daniel Tashian (a songwriter/musician/producer known for his multi-award-winning work on Kacey Musgraves' Golden Hour) and immediately felt an undeniable creative connection. "Daniel and I were both so excited by the idea of creating a new sound together, and he pushed me in ways I felt completely ready for and open to," she says. "It felt really good to allow myself that freedom, and to take that leap into something new."
Produced by Tashian at the legendary Sound Emporium, Polaroid Lovers took shape as Jarosz recorded live with musicians like guitarist Rob McNelley (Miranda Lambert, Carrie Underwood), Tom Bukovac (Tom Petty, Vince Gill) on guitar and organ, her husband bassist Jeff Picker (Nickel Creek), and drummer Fred Eltringham (Sheryl Crow, Lucinda Williams), carving out a viscerally potent but resplendent brand of folk-rock. Along with layering in such delicately crafted details as otherworldly textures and luminous synth tones, Jarosz and Tashian forged the album's singular sound by foregrounding her spirited performance on octave mandolin. "Out of everything I play, the octave mandolin is definitely my soulmate," says Jarosz, who first took up mandolin at age nine, quickly gained major acclaim in the bluegrass world, and also plays guitar and banjo throughout Polaroid Lovers. "I started playing it when I was 16, and that's when I started writing songs that truly felt like me — there's something about the tonality that really lets my voice shine through."
With her co-writers on Polaroid Lovers also including artists like Ruston Kelly, Natalie Hemby, and Sarah Buxton as well as heavy-hitters like Jon Randall (Miranda Lambert, Emmylou Harris) and Gordie Sampson (Willie Nelson, Trisha Yearwood), Jarosz opens the album on "Jealous Moon": a gloriously soaring and exquisitely nuanced track that instantly sweeps the listener up in its bristling emotionality. "That song is about the parts of ourselves that we try to keep hidden, and the moments when they rise to the surface and we just have to ride the wave," says Jarosz, who co-wrote "Jealous Moon" with Tashian on a trip to his family's summer house in Monteagle, Tennessee. "Daniel and I call it our little Monteagle song that could — it started off with me playing ukulele and him playing nylon-string guitar on the porch, then blossomed into this very powerful song that knocked me off my feet."
Next, on "When the Lights Go Out," Jarosz shares the sweetly lilting reverie that gave the album its title (from the first verse: "In a dream we were Polaroid lovers/In the deep where the edges don't lie"). "I wrote that song with Jon Randall and Gordie Sampson, who suggested we try something in a 6/8 time signature — which is such a simple idea, but took us in a direction I might never have gone otherwise," she says. "To me the lyrics are a way of asking someone you're intrigued by, 'Who are you when all the shine and attention isn't on you anymore? Who are you really?'" Another track co-written with Randall, "Runaway Train" kicks the album into high gear as Jarosz serves up a bright and soulful love song built on a wildly sing-along-ready chorus ("You've got a heart like a runaway train/Screaming down the mountainside/Burning like a fever that you can't contain/Humming like the 405"). "Coming out of the pandemic and playing shows again, I realized that a lot of the more uptempo songs in my set were covers," she says. "I wanted to write a love song that would give people that joyful feeling, and Jon and I had so much fun playing with all those images of California and Colorado and Texas Hill Country, which is where I grew up."
One of the most poignant moments on Polaroid Lovers, "Columbus & 89th" drifts into a dreamlike beauty as Jarosz reflects on the ineffable heartache of leaving her longtime home of New York City back in 2020. "New York signified this childhood dream that I'd had for so long, so moving to Nashville was like turning the page from youth to adulthood," she says. "'Columbus & 89th' ended up just pouring out of me once Daniel and I started working on it — there was so much nostalgia and melancholy that I needed to process, and now I still tear up whenever I hear it. As a songwriter my main goal is to tell the truth about my experience, and I think the fact that that song makes me so emotional means that I was tapping into real feeling." Written on the same trip that yielded "Columbus & 89th" (a journey to Alabama's Orange Beach with Tashian's family), "Days Can Turn Around" unfolds as a gently swaying folk song threaded with warmly delivered instruction for living well no matter what the circumstances (e.g., "Never turn down cold champagne/Don't change your plans for a little rain"). "Both of those songs have similar themes of thinking back and looking forward, but trying your best to be in the moment," says Jarosz. "With 'Days Can Turn Around,' I wanted to talk about all those little gems of wisdom you hear from you parents that end up taking on a whole new meaning when you finally become an adult."
As Jarosz reveals, her very first co-writing session with Tashian helped draw out the deep-rooted confidence that informed all of the album's creation. "That first day Daniel and I worked together we wrote a song called 'Take the High Road,' which is about taking the time to really know yourself and get comfortable in your own skin, even if it might take a little longer to get to where you want to be," she says. "There was something so beautiful about that being the first song we wrote for this album — it gave me the push I needed to not be afraid, to move beyond the boundaries and explore new sounds." A widely beloved musician whose past efforts include teaming up with fellow singer/songwriters Sara Watkins and Aoife O'Donovan to form the Grammy Award-winning trio I'm With Her — as well as appearing on albums by iconic artists like David Crosby and Amy Ray of Indigo Girls — Jarosz derived a particularly profound sense of purpose from the highly collaborative process behind Polaroid Lovers. "Maybe more than any record I've ever made, I felt so present and hyper-emotional with this album because I believed in it so much," she says. "It was so joyful to work with all these writers and musicians, and I think that joy really comes through."
Looking back on the making of Polaroid Lovers, Jarosz notes that shaking up her process ultimately left her eager to further expand her creative horizons. "It was a big step for me to reach out to Daniel, but in the end it showed me how important it is to keep taking thoughtful chances," she says. "This whole album reminded me that I never want to play it safe — if anything, I want there to always be that element of being a little scared, because that means I'm taking a risk. In a way that's what's so wonderful about art: if you're lucky, you never reach the finish line. You just keep searching and chiseling away at the stone, and putting everything you can into making something that tells the truth but hopefully leaves space for others to find meaning too."
Leftovers, the debut album from Montreal's Le Ren, stitches together a patchwork of personal songs about different relationships: those we share with mothers, lovers, and friends. Lauren Spear, the artist behind Le Ren, created a physical quilt to mirror the assemblage of stories that comprise her album: a coming-of-age collage that collects over four years of past experiences and finds their present meaning. "When I think of leftovers, I think of things that have been cast aside," she says. "When they're picked back up or remembered, they can be repurposed… Leftovers came to mean a collection of feelings and moments of the past that still remain relevant to my present."
Leftovers was originally scheduled to be recorded in LA in early 2020, but the pandemic forced Le Ren to reconsider the kind of album she wanted to make, and how she wanted to make it. Taking the time to revamp old songs and bring the past to bear upon new ones, she distilled years of material into ten tightly executed tracks united by the swooning pluck of her guitar and the crystal clear timbre of her voice. In April 2021, she met with producer Chris Cohen in a rented house in Portland, Oregon, where they had to wait for a neighborhood boy to stop making noise outside before they could record. The album came together much like the patchwork of her quilt, with collaborators Kori Miyanishi, Cedric Noel, Saltwater Hank (Jeremy Pahl), Eliza Niemi, Kaïa Kater, Aaron Goldstein, Buck Meek, and Tenci (Jess Showman) recording their parts separately from across North America. The result is a timeless assemblage of love, heartache, celebration, and lessons hard-learned, written and performed by a musician who has honed the subtleties of her craft.
Spear studied bluegrass as a teenager on Bowen Island/Nex_wlélex_m, a small municipality on the Canadian west coast. In adulthood she dove headfirst into Montreal's (/Tiohtià:ke's) music scene, expanding her artistry into contemporary folk, rock, and country. With the release of her EP Morning & Melancholia in 2020, Le Ren earned comparison to the deft musicianship and sparse, eloquent lyrics of John Prine and Neil Young.
On Leftovers, she shows us the depth of her sonic and thematic range. Resonant, thoughtful opener "Take On Me" is an ode to a love that changed shape, but was not lost. The warm, inviting lilt of "Dyan" follows, a heartfelt dedication to her mother that precedes another gently melodic maternal track, "I Already Love You." "As I get older, I find myself contemplating motherhood," Le Ren explains. "'I Already Love You' was written for a possible future." "Annabelle & Maryanne" and "Friends Are Miracles," meanwhile, are love songs for those platonic relationships that bring an unmatchable sense of support and tenderness to life. Throughout the album, Le Ren explores different forms of intimacy, the experience of entwining your world with someone else's, and the fear and beauty that come with sharing your heart. Closing track "May Hard Times Pass Us By" leaves the listener on a note of hope, resilience, and gratitude with the guiding light of Le Ren's silvery vocals and sure but stark strumming.
With its organic yet meticulous folk production and deeply felt lyrics, Leftovers exists outside of trend or time, finding a home among classic icons like Joni Mitchell, Vashti Bunyan, and KarenDalton, as well as a new class of folk extraordinaires, such as Adrianne Lenker, Jessica Pratt, and Laura Marling. Le Ren writes with a bold clarity that lends her songs the immediate, enduring quality of good stories well-told that, like their album title-namesake, only get better with age. Leftovers is equal parts melancholy, deep love, and levity to lift up the mournful. Le Ren here weaves a rich musical tapestry addressed to loved ones lost, found, and kept that reveals new meanings within a lifetime of relationships.
Posted to: Upcoming Events at the Shea on 2023-10-06 12:23:23 (updated 2023-11-28 15:23:45).