The Music of the Stone Coyotes and Art of Doug Tibbles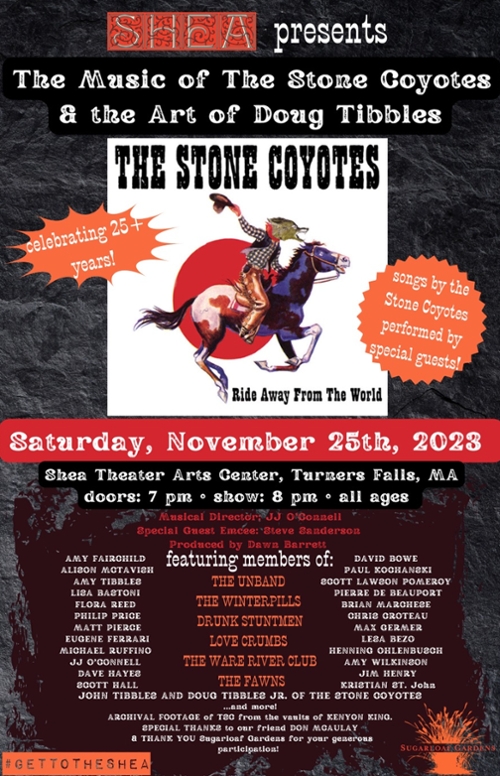 Saturday, November 25, 8:00 pm until 10:30 pm
Presented by the Shea Theater. Please join us for a special night celebrating the life, art, and music of the late, great Greenfield-based Doug Tibbles and his legendary band, The Stone Coyotes.
The Shea Presents:
The Music of the Stone Coyotes
and the Art of Doug Tibbles
Tribute Concert
WHEN: Saturday, November 25th 2023 at 8pm
WHERE: Shea Theater Arts Center, 71 Avenue A, Turners Falls, MA
TICKETS: $17 in advance/ $23 at the door
https://www.showclix.com/event/stone-coyotes-and-doug-tibbles-celebration
Accessibility Notice: Our theater and first-floor gender-neutral restroom are wheelchair accessible. There will be alcohol on-site for this event.
Join Western Mass musicians and fans at the Shea for a night celebrating the life, music, and art of Greenfield-based Doug Tibbles who passed away in April of this year. The music of the legendary Stone Coyotes will be performed by local heroes of our rich music scene. Featured musicians will include Steve Sanderson (Drunk Stuntmen, Mornings with Steve Sanderson on 93.9 The River), JJ O'Connell (Spouse, Soul Magnets), Don McAulay, The Unband, Matt Hebert, Alison McTavish, and more TBA!
ABOUT THE STONE COYOTES
Barbara Keith began her career at the Café Wha? in Greenwich Village, following in the footsteps of Bob Dylan, Jimi Hendrix, Joan Rivers, and many others who got their start in that hallowed dive. She was soon recording for MGM/Verve, A&M, and Warner Brothers. Her songs have been covered by such diverse artists as Tanya Tucker, Barbra Streisand, The Dillards, Melanie, Hank Snow, Lowell George, and Patty Loveless, who covered Barbara's "The Bramble and the Rose". Her husband Doug Tibbles had a whole other life before drumming – A native of Los Angeles, he was a TV writer for such shows as "The Munsters", "Bewitched", "Andy Griffith", and many more. Unhappy with show business in general, Barbara gave back her major label advance, Doug quit his one-day-old job as story editor for "Happy Days", and they went underground. Doug took up drums and son John took up bass at age eleven. Reclusive by choice, the band moved from L.A. to Western Massachusetts to write and woodshed. They began playing the occasional show while recording in their cellar. When best selling author Elmore Leonard ("Get Shorty", "Jackie Brown", "Out of Sight") walked in the Troubadour in L.A. one night looking for inspiration for his sequel to "Get Shorty", he discovered The Stone Coyotes. They became the model for Chili Palmer's next adventure, "Be Cool". Leonard said, " It was music I could understand…straight ahead rock and roll with a twang. And there are good stories going on in the songs." He included the lyrics to 5 of their songs and dedicated the book to them. He and the band made a string of appearances together around the country with a Words and Music Tour – from New York's Mercury Lounge to L.A.'s Viper Room. Their music has been in soundtracks for various films, including "D3: The Mighty Ducks", "Drillbit Taylor", and "Lawless Range", as well as 9 episodes of "Dog the Bounty Hunter".
ABOUT THE SHEA THEATER
The Shea provides performance space for a variety of attractions designed to appeal to the widest range of tastes. Musical offerings include folk, pop, rock, swing, jazz, country and traditional. Theatrical productions encompass musical comedy, drama, comedy, and political satire. In addition, audiences can take advantage of magic shows, children's shows and silent film revivals.
The Shea, with the help of a wonderful corps of volunteers, has been attracting a growing audience and as a result is bringing people into Turners Falls from an ever larger geographical area. This growth has put the Shea on a firmer financial footing, providing the basis for expectations of an even more exciting future for this vital community asset.
https://sheatheater.org/
Posted to: Upcoming Events at the Shea on 2023-10-17 12:42:42 (updated 2023-11-15 00:24:55).