Red Baraat w/ DJ Bongohead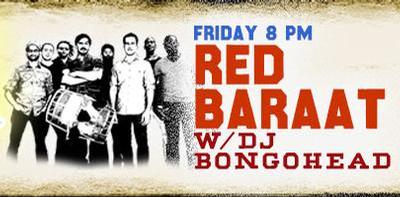 Friday, March 4, 2016, 8:00 pm until 10:00 pm
$25 in advance, $28 at the door
Famously dubbed "The best party band in years" by NPR, Red Baraat is a pioneering eight-piece band from Brooklyn, New York. Conceived by dhol player Sunny Jain, the group has drawn worldwide praise for its singular sound — a merging of hard driving North Indian Bhangra with elements of go-go, rock and jazz — fueled by 3 master rhythm makers, the muscle of horns, a raucous guitar and a booming sousaphone.
Purchase Tickets:
http://www.ticketfly.com/event/1071349
Posted to: Upcoming Events at the Shea.