Speedy Ortiz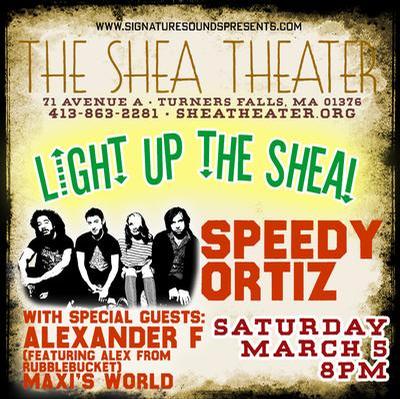 Saturday, March 5, 2016, 8:00 pm until 10:00 pm
$15 in advance, $18 at the door
Attention came swiftly following Speedy Ortiz's 2012 Sports EP on the Boston-centric label Exploding In Sound, and with good reason. Amherst Massachusetts-based songwriter/guitarist Sadie Dupuis' knotty, lyrically dense songs were fully realized by her bandmates, with intricate guitar lines crisscrossing over Darl Ferm's fluid bass and Mike Falcone's precisely executed drumming in a way that was simultaneously catchy and jarring. After the success of its 2013 Best New Music-honored debut full-length Major Arcana, the band formalized its assault through a year and a half of relentless touring with bands in whose brainy-slash-brawny legacies it followed—among them Stephen Malkmus & The Jicks, Ex Hex, and The Breeders. In 2014, the band added guitarist Devin McKnight of the Boston-based post-punk group Grass Is Green, whose guitar parts both match and challenge Dupuis'.
Purchase Tickets:
http://www.ticketfly.com/event/1071381
Posted to: Upcoming Events at the Shea.