CouchMusic Presents: The Gaslight Tinkers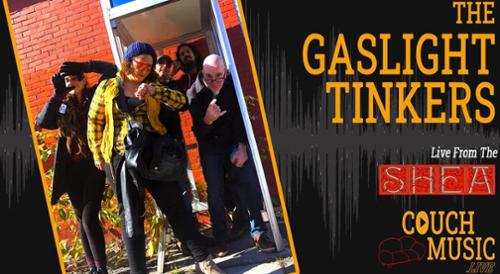 Friday, November 20, 2020, 7:00 pm until 8:00 pm
FREE - (But PLEASE TIP the artists generously!)
CouchMusic.Live presents the genre bending world fiddle sounds of The Gaslight Tinkers.
The Gaslight Tinkers - LIVE from The Shea (Livestream)
FRI ~ 20 November, 2020
INFO and REGISTER: https://bit.ly/2HWYzCy
Suggested Entry: $0-$20 ~ Pay What You Want
****REGISTER TO GET THE LINK!!!****
SUPPORT LIVE MUSIC! We encourage you to give what you can to support the artists, venue and production crew bringing you these exciting live music experiences!
With a goal of supporting independent artists and venues during this unprecedented time in the music industry, Livestreaming Co-op CouchMusic.Live presents a socially-distanced livestream series featuring some of our favorite venues and artists.
ARTIST BIO
THE GASLIGHT TINKERS
Facebook Page:
https://www.facebook.com/thegaslighttinkers
African, Caribbean, Funk, Reggae, and Latin grooves meet traditional fiddle music. It's the genre-bending future of the music of the past.
The Gaslight Tinkers' blend of global rhythms creates a joyous world beat sound around a core of traditional New England old time and Celtic fiddle music, merging boundless positive energy with melody and song. Since its formation in 2012 the band has lit up the nation coast to coast as well as the Caribbean, headlining clubs, dances, and major festivals.
Playing what The Valley Advocate (Northampton, MA) describes as "Music that consistently fizzes and pops with unexpected textures and turns," The Gaslight Tinkers' shows are packed with delightful surprises, elated crowds, exuberant musicianship, and lots of dancing. The sound and energy of, Jopey Fitzpatrick, I-SHEA, Garrett Sawyer and Peter Siegel are universally irresistible.
The Tinkers were born when seasoned musicians of the traditional folk, Caribbean, old time, Celtic and rock scenes gathered to craft a sound that brought world traditions together. Collectively, members of the band have played and recorded with world renowned artists like calypso king Kurt Allen, The Trinidad band Atlantic, Pete Seeger, Michael Daves, Noel Paul Stookey, Judy Collins, John Cohen, Dar Williams, and Senegalese hip-hop band Gokh-Bi System. In April, 2016, the Tinkers toured Trinidad, appearing on national TV as a genre bending calypso band, widening the perception of Caribbean music. The Tinkers' recent guests include the legendary Trinidad calypso/ soca singers Choc'late Allen, Calypso Monarch Helon Frances, and world class fiddlers Josie Toney and Emerald Rae.
ABOUT THE VENUE
The Shea is a theater which keeps reinventing itself. Established in 1927 by Denis Shea, this up-to-date movie theater was designed in the "Spanish" style so popular in the Hollywood of the twenties. That time is still vivid in the minds of some Turners Falls residents as a time of five cent matinees, movie serials and (in the thirties) dish nights, when you could see a movie and add a piece of "Depression Glass" or china to your table setting. Nowadays, The Shea provides performance space for a variety of attractions designed to appeal to the widest range of tastes. Musical offerings include folk, pop, rock, swing, jazz, country and traditional. Theatrical productions encompass musical comedy, drama, comedy, and political satire. In addition, audiences can take advantage of magic shows, children's shows and silent film revivals.
ABOUT CouchMusic.Live
( www.CouchMusic.Live )
CouchMusic.Live is the independent music lover's guide to virtual live music experiences from around the corner and across the web. As a livestreaming cooperative, the CouchMusic team brings together industry professionals from around the US with one common purpose - to provide a platform for artists, fans, venues, promoters, and labels to come together and to build a resilient community in the new frontier of the suddenly digitized live music arena. The site currently features a blog of livestream previews and reviews, a high quality virtual venue featuring some of our favorite performers, and curated listings of streams by both local and mainstream musicians. The organization strives to shed light on the importance of the grassroots scene, especially within the context of this challenging time. By connecting the silos of the industry and beyond, we aim to be an inclusive and empowering force of good in a world desperately needing guidance towards a path of unity and respect.
KEEP IT SAFE
The safety of the artist and venue/production staff are our #1 priority. All CouchMusic.Live shows are socially distanced and follow best practices for preventative measures, such as mask wearing and hand washing. It is our goal to provide artists and venues an opportunity to keep bringing live music to the world while still staying safe. We support common sense safety measures that protect us all and, ultimately, ensure that we can continue to present shows like this into the future.
Posted to: Events at the Shea