New Vaudville Holiday Spectacular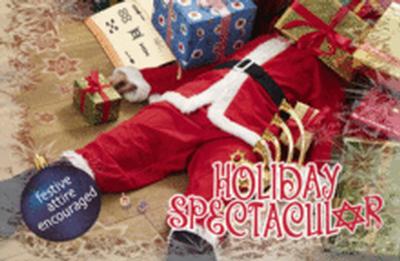 Friday, December 15, 2017, 7:30 pm
Presented by Eggtooth Productions. Tickets available online and at the door.
The New Vaudeville Holiday Spectacular
What happens when you take an entire ARTS festival & jam it into one amazing show with performers of all kinds who create upon the theme of COMMUNION? A crazy wonderful New Vaudeville Holiday Spectacular! Tickets are $15 with all children under 15 FREE. Hosted by Joe Dulude II with Katherine Adler, movement artist.

Here are the delights that await you in no particular order yet:
1. Excerpts from Savage -- a new musical in development. Savage is based on the true story of Wanda Savage, a Native American sharpshooter who rose out of Oklahoma poverty to perform in circuses and vaudeville before taking on Hollywood as a stunt woman and actress in silent films. With Nicolette Blount (Producer, Writer, Composer), John Waynelovich (Musical Director, Composer, Arranger) and Lindel Hart (Writer, Editor).

2. Karen Shulda Dance: Three excerpts from La Boutique Fantasque the Overture, Tarantella, and Waltz using the Rossini-Respighi score, but focusing on just two female dolls who come to life when the shop is closed featuring two young dancers.
They awaken and dance to the Overture, shift gears and make a quick onstage costume change for the Tarantella, then another mood and costume change for the Waltz.
They communicate their concerns and ideas gesturally, in response to the music and each other.

3. Emma Ayres, The Water Project, excerpts from her new opera.

4. Alex DeMelo: The Concluding speech of the Great Dictator.

5. Ellen Villani: Stand Up Comedy.

6. Jack Golden: premiere of movement performance, 13 Ways To Be A Black Dog

7. Jeremy Geragotelis: performs John Berryman Reads My Poems, Feat. A Bottle of Whiskey.

8. Maureen McElligott reads final lines of a poem by Maya Angelou, entitled "On the Pulse of the Morning", which she wrote for the inauguration of President Bill Clinton in 1993.

9. Phoebe Lord and Michayla Robertson Pine offer an original devised theater piece with music called The Blue Room.

10. John Lentz- Jazz

11. Violet Walker clown extraordinaire plays the saw in the Lobby.
Posted to: Upcoming Events at the Shea.