The Red Guitar and DO IT NOW: Manual Override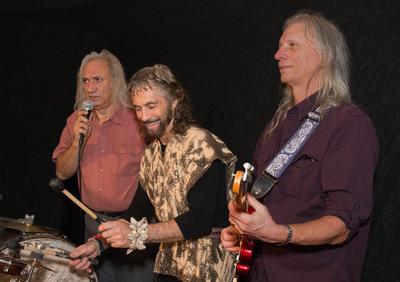 Friday, April 27, 2018, 8:00 pm
Presented by Serious Play Theatre Ensemble as a fundraiser performance for the 2018 Edinburgh Fringe Festival. Tickets: In advance- $15 Seniors & Students / $18 General Public, $20 at the door.
Serious Play / Edinburgh Fringe Performance Exchange
An international exchange of compelling performances. Taking work of
inspiring Valley performers to the Fringe festival every August, and bringing back
bold and authentic work for local audiences.
Events: Fundraising Performances presented by Serious Play:
Each show includes both:
The Red Guitar &
DO IT NOW: Manual Override
When & Where:
Friday April 27, 8PM, Shea Theater in Turners Falls
Saturday May 12, 8PM, Gateway City Arts in Holyoke
& Friday June 1st, 8PM, Hallie Flanagan Theater, Smith College in Northampton
Tickets: In advance at www.brownpapertickets.com ($15 Seniors & Students / $18 General Public,
ALL TICKETS $20 at the door )
Time- Each show is 50 mins with an intermission in between
Additional information: seriousplaytheatre@gmail.com or call 413-588-7439
__________________________________________
Serious Play Theatre Ensemble presents the two shows going to the August 2018 Edinburgh Fringe Festival
John Sheldon's The Red Guitar directed by Sheryl Stoodley
A virtuoso guitarist, a red Stratocaster,
a life in sound
In 2016, The Red Guitar struck the right chord in Scotland, earning a coveted 5-star review with The Herald's highly respected music reviewer Rob Adams and has been invited to return to the Edinburgh Fringe Festival this August. His candy apple red Fender Stratocaster in hand, John takes us on a trip, careening through the rise of guitar music in the nuclear age, from Folk through Blues and Rock, to a vision of the future in which the past is vibrantly alive, a heartfelt yet unsentimental performance. Just when you think you are seeing a deconstruction of popular music, you sense something else taking place, a quickening, an awakening of senses long lost, a reclaiming of sounds you thought were consigned to history. Something unexpected is being made right in front of you, a sound loop sculpture plucking chords of your memory.
John, a master guitarist who played lead in Van Morrison's band at the age of 17, wrote songs for James Taylor, unknowingly drew praise from Jimi Hendrix, and whom Ed Ward of National Public Radio called, "One of the great guitarists of our time", uses a unique blend of storytelling, unearthly sounds, and wicked, layered guitar licks, to send us zipping through the folds of time and space, emerging into the light of a simple, transformative melody. John's ironclad belief in the power of sound pervades the whole performance, the conviction that music is not just entertainment, but a soul saving enterprise, worthy of the lifelong commitment he has made to it. His technical skill never overwhelms the story, the poignant, the humorous, the moments of connection, of illumination. The journey continues, setting a course to the center of who we truly are: vibration.
Artistic Director, Sheryl Stoodley:
I have collaborated with John on many Serious Play productions over the past 10 years. He does not use music, he is music. It is this rare sense of connection and assurance that drives his creative gift.
In the same evening, Serious Play also presents:
DO IT NOW: Manual Override
directed by Sheryl Stoodley
Three master artists collaborating with a mutual message for change
Danger!! Danger!! Systems are being corrupted or broken. A crash surely lies ahead. No time to waste. We must take back control! Do It Now. Manual Override. Pulling the controls together are John Sheldon on electric guitar, Tony Vacca on all things percussion, and Paul Richmond's beguiling William S. Burroughs-like spoken word. The trio takes on anything from the mundane envy for a neighbor's dog to nuclear power posturing to interracial tension, turning them into poetic flashes of text that erupt from a hotbed of music. Non-verbal communications on stage, based in trust and intuition between masters at their craft, creates theatrical moments with authentic music interwoven with Richmond's text. An evening of food for the mind as well as the soul.
The Trio includes:
John Sheldon - (Who you know from The Red Guitar)
Paul Richmond – Named as current Beat Poet Laureate of Massachusetts by the National Beat Poetry Foundation, Paul is best described as political, deadpan and wryly humorous with his own unique style. He has been called, "Assassin of Apathy" using the power of words and humor to tackle the unthinkable and seemingly unsolvable, giving birth to creativity and hope. Paul has performed on stages from the Austin International Poetry Festival, in Austin TX, to Gödör Klubban at the Jazzköltexzetiest in Budapest, Hungry. He is widely published in books, journals, anthologies, and poetry collections. His Human Error Publishing promotes Word events and festivals and publishes books.
Tony Vacca -- An innovative percussionist with Jazz and World Music roots going back to 1972. Over the course of his career, he has made a habit of pushing the already adventurous conventions of World Music into new territory, both as a soloist and as the leader of his World Rhythms Ensemble. He is part of a wave of musicians whose work has fueled the rediscovery of the power of the drum, and the power of music to build global common ground. His twenty-one trips to West Africa have contributed to his unique approach to playing the balafon, and to his depth of knowledge regarding African and American musical traditions. He has recorded and/or performed with such a wide range of musicians including pop icon Sting, Senegalese Afro-pop star Baaba Maal, Jazz trumpeter and World Music legend Don Cherry, poet Abiodun Oyewole of The Last Poets, Senegalese Hip-Hop stars Bideew Bou Bess, as well as Gokh-bi System, and Massamba Diop, Senegalese master of the tama or talking drum.
___________

Serious Play Theatre Ensemble www.seriousplay.org is based in Northampton, Massachusetts USA, where it was founded over 25 years ago. The company works to create a dynamic integration of theatre, movement and text, and has a history of engagement with ensemble-created scripts that are informed by contemporary issues. Productions have toured to NYC and Boston, and to Athens, London, Edinburgh and to the JoakimInterFest in Kragujevac, Serbia, where its production of the politically charged Milosevic at the Hague, won an international award for "dramatic innovation and theatrical boldness". Serious Play is a member of NET, the Network of Ensemble Theaters, and an Artist Associate with A.P.E.@ 33 Hawley St., a partner with the Northampton Community Arts Trust.
Posted to: Upcoming Events at the Shea.