Connecticut River Valley Poets Theater: The Orchids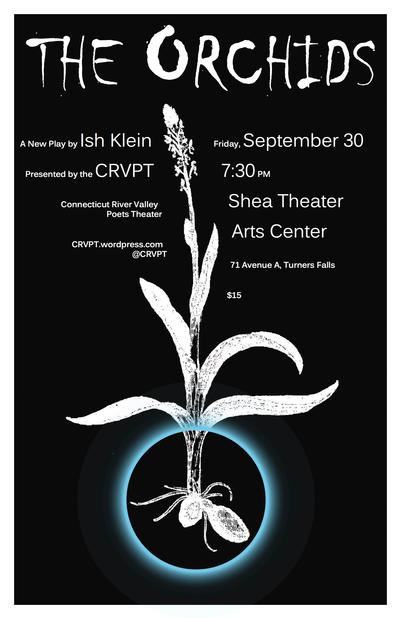 Friday, September 30, 2016, 7:30 pm
Tickets: $15 general admission. Tickets are available at the door from 6:30 pm. Please note sales are cash or check only.
The Orchids is a black comedy about two young people who get ensnared in a system
that only sees their value as objects of commerce. In this technocracy information is all
and true links are rare. Iris is starting her 'next life' without her memory and therefore
without an idea of context. Her rootlessness makes her vulnerable in this system. In
her duress she cries out. Lief responds to her cry of help during which time it is
discovered by the tormentors that Lief contains a universal link. He is cruely acted
upon. This is a play about finding one's power and one's own universal link.
WARNING: There are scenes depicting sexual violence; please don't bring your young
children.
Read Jenny Abeles' terrific feature on CRVPT and The Orchids!
http://www.recorder.com/Abeles-column-4845871

CRVPT is radical and fun. It is a theater group composed of writers,poets and artists. The group
was started in 2012 when Stella Corso, Ish Klein, Greg Purcell, and Wilson Yerxa started
doing theater exercises on top of Mount Sugarloaf.
Posted to: Upcoming Events at the Shea.