Harvest Jam with Bella's Bartok and the Gaslight Tinkers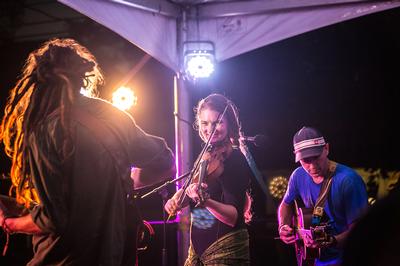 Friday, October 7, 2016, 8:00 pm until 10:30 pm
Tickets: Advance sales have ended. We have room for more! $18 at the door, cash or check only. Doors open at 7:30 pm.
Celtic world beat meets modern pop klezmer when The Gaslight Tinkers team up with Bella's Bartok for a night of outrageous dance music. Celebrate the fall harvest with this valley mini fest!
Often referred to as a modern-pop klezmer, the Bella's Bartok's sound moves way beyond that label, pushing the envelope towards the more eclectic side of the Eastern European style and forging a new pop sound as heard through the filter of 20th century fantasy and sci fi. Every show is filled with the exuberant joy of wildly energetic dancing. It's contagious. You simply cannot avoid it. When the circus-inspired sound of Bella's Bartok hits your ears, you are no longer in control. Their music makes everyone dance, regardless. From living rooms to concert halls, alleyways to weddings, the band's energy makes getting up and moving irresistible. Without fail, someone from the audience comes up after every single show and says the same thing: "I couldn't help it."
The Gaslight Tinkers' blend of global rhythms creates a joyously danceable sound around a core of traditional New England old time and celtic fiddle music, merging boundless positive energy with melody and song. Since its formation in 2012 the band has lit up the East Coast, the West Coast, and the Caribbean, headlining clubs, dances, and major festivals. Playing what The Valley Advocate describes as "Music that consistently fizzes and pops with unexpected textures and turns," The Gaslight Tinkers' shows are packed with delightful surprises, elated crowds, and exuberant musicianship. The sound and energy of Audrey, Jopey, Garrett, and Peter are universally irresistible.
Posted to: Upcoming Events at the Shea.