Shea IPA: Shea Theater's Rebellion from BBC
Listen to Monte chat about our new Shea IPA with Gary Bogoff and Jason Hunter of BBC on WRSI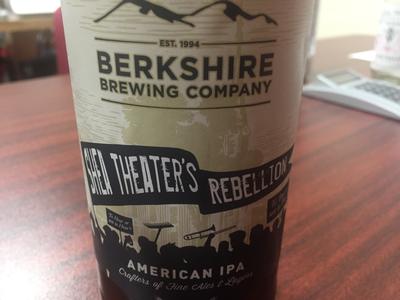 Monte chats with Gary Bogoff and Jason Hunter of Berkshire Brewing Company about the creation of the Shea IPA- "Shea Theater's Rebellion! Hear the full WRSI interview below.
http://wrsi.com/monte/shea-ipa-berkshire-brewing-company-creates-a-beer-for-the-shea-theater/
After many years of pouring beer to support the arts at The Shea Theater, Avenue A in Turners Falls, Berkshire Brewing Company has taken their support of The Shea to the next level. Berkshire Brewing Company in South Deerfield has crafted a modern-style, hop-forward but well-balanced, fruity and hazy American IPA called Shea Theater's Rebellion.
The name is a play on regional history and a nod to the idea that art is one of the most powerful tools of rebellion we, as humans, have at our disposal.
$20 from each case of Shea Theater's Rebellion goes directly to support the continuing work of improving the sound and lights at The Shea, as well as towards the purchase of a large film screen and projector. The label design and printing were also donated in support of the mission of The Shea; the design by Idea Collective in Easthampton and the labels by Dion Label in Westfield.
Gary Bogoff, one of the founders of Berkshire Brewing Company says "The Shea is in a true revival and a renaissance theater in its own way, bringing a lot of nice culture to the Upper Valley." This isn't the first time BBC has created a beer for a good cause. They have previously created a beer to support victims of Hurricane Irene and their Shabadoo always supports The Food Bank of Western Mass.
Only 500 cases of Shea Theater's Rebellion will be produced in its initial run and is now available in stores.
Posted: to General News on Thu, Feb 2, 2017
Updated: Thu, Feb 2, 2017